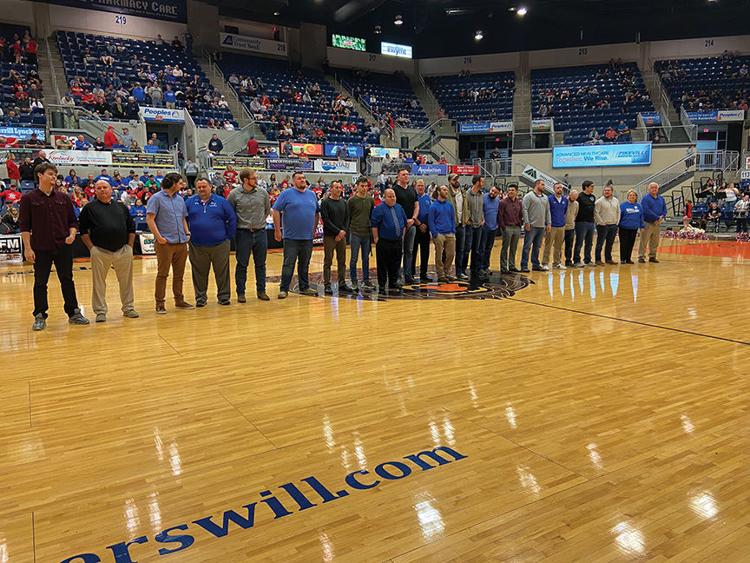 That's a day the Shelby Valley basketball program will never forget.
That day, the Wildcats picked up a 73-61 win over Ballard in the PNC/KHSAA Boys' Sweet 16.
That day Shelby Valley became state champions.
Recently, the Wildcats got together and celebrated their 10 year anniversary at Buffalo Wild Wings.
The Wildcats also celebrated their 2009 and 2010 All "A" Classic state championships as well.
Current Pikeville principal and former Shelby Valley head coach Jason Booher organized the reunion.
"That's the thing, we talked after we won our state championships about 10 year and 20 year anniversaries," Booher said. "We'll get back together at the reunions and make sure you make plans to get here. It's neat to have almost everyone of them back. Just to see how much they've grown as young men into men. A lot of them are married and have kids. They have careers. It's neat to hear the stories see where there at. The wins and championships are great, but this is what it's about. It's about seeing kids being successful in life. The great thing about coaching is seeing all those guys being grown up and being successful and getting together and reminiscing about the fun times we had in the past."
"These are high character kids that are driven and motivated do good things," Booher said. "The obviously have and will continue to do so in the future. It's just great seeing them being successful. They've always had a great work ethic and they're continuing with that throughout their lives."
In 2010, Shelby Valley went 32-4 on the season. The Wildcats became the first school to win both the All "A" Classic and Sweet 16 state championships in the same season.
In 2009, Shelby Valley went 31-5 and won the All "A" Classic state title. The Wildcats fell to Elliot County in the second round of the Sweet 16 that season; at the time it was the largest single attended game in state tournament history.
"It's pretty awesome to see where everybody is at nowadays," comer Shelby Valley guard Cody Varney said. "We're also joking around with the same jokes from back in the day. We just picked up where we left off. It's good to see everybody has started their families and where they are at and what they're doing in life now and just reliving some old glory days."
Pikeville assistant coach Greg Newsome was the assistant coach for Shelby Valley in 2010. He followed by coaching the Wildcats for three seasons. He led the Wildcats to the 2011 15th Region title the year after the Sweet 16 team.
"It was great to see all of them," Greg Newsome said. "Truly, they stay in contact. They may not see each other, but they stay in contact through texting and Twitter and all of that. They're really like brothers. They really are. You can tell by how many showed up and they fit right in together. It's great seeing them back together because it was a special time in our life that we'll never forget.
"Just listen to where they are all at right now and the careers they're in and they have kids and I'm sure they're going to be great parents. I'm just so proud of them and I hope we see them every few years."
Ashley Hatfield was one of the standouts on the 2010 team. He was a numerous time All-State player. Hatfield had size and athleticism. He was one of the reasons the Wildcats beat Ballard in the championship game. He helped relieve Elisha Justice of some of the ball handling duties in the state title game and he was a matchup nightmare for Ballard.
"A lot of these guys have stayed in touch and the ones you haven't you've seen them on social media or you've seen them around,"  Hatfield said. "It's been great to get together and just say hey and talk about the good ole days and reminisce on some pretty good times.
"Some of the guys the other day were talking and you just can't turn it off. It's been years, but every year, you get that itch around March. You see the scores and you see the updates on KHSAA, you just can't turn it off. In Kentucky, it's all about basketball and it's fun relive it too."
"It never gets old, I can say that," Hatfield said. "You think back to it and it was fun then and it is still fun to think about now. It's something that we all dreamed about growing up and to go out on top, it's really special."
Elisha Justice was named 2010 Mr. Basketball. He broke the state's all-time steals record. He finished as Shelby Valley's all-time scoring leader and went on to play college at the University of Louisville and at UPike before becoming a coach. He just finished his fourth season at Pikeville. Justice won back-to-back 15th Region Tournaments in his first two seasons at Pikeville. He fell in the state championship game to Johnson Central in his third season and fell on in the semifinals to Martin County in an overtime thriller this season.
During his run at Shelby Valley, Logan Bryant was his back court mate. The duo formed one of the toughest defensive backcourts in the state.
"Everybody knows our group was something special," Logan Bryant said. "It's just like being here 10 years ago, nothing has changed with us. We're still family and we still love everybody. We wish Elisha (Justice) luck tonight, wrong colors, but we still wish him luck. It's good to see everybody and see everybody doing good.
"It was special because we played off of each other," Bryant said. "It didn't matter who got the credit for it. We came in got the job done and gave it 100 percent. I knew he had my back and he knew I had his."
"You know everybody loves each very much because not everybody still lives here and I thought it was almost impossible to get everybody together at one time and one place," Justice said. "But you see everybody has made it here and made the effort to come back, you know this team meant something. It means something to everybody. Like Logan (Bryant) said, it's just the same group and nothing has changed. It's fun when you can think back on those times, especially the time of year it is right now. It's the prime time for basketball right now. Knowing what you went through and what you fought through with these guys, there's no other group that I would want to do that with than these guys here."
Championships never graduate.
Maybe in a few years, you'll see this group back together once again.