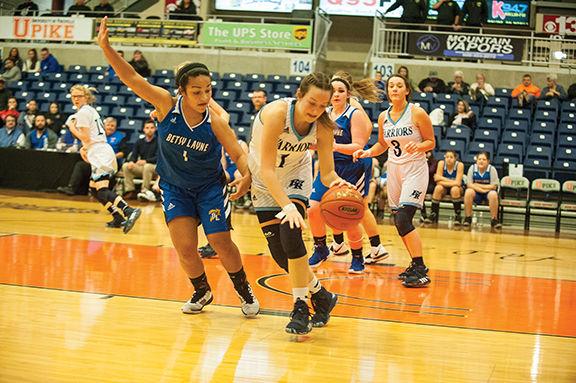 Betsy Layne held off East Ridge 59-50 in the opening round of the 15th Region All "A" Classic Thursday night at the Appalachian Wireless Arena.
East Ridge got behind the eight ball in the first half. The Lady Warriors only shot 18.5 percent (five for 27) in the first half of play.
That slow shooting coupled with Betsy Layne shooting 48 percent (12 for 25) from the floor in the first half, saw the Lady Warriors trailing 28-14 at the break.
East Ridge made a charge late in the game and cut the lead to as little as six points in the closing minutes, but couldn't ever get closer. Betsy Layne made enough plays down the stretch to survive and advance in the tournament.
Amelia Blackburn led the way for Betsy Layne scored a team-high 16 points and she added three steals. Alexandria Jarvis followed with 15 points, eight rebounds and two steals. Madilyn Meade also reached double figure scoring with 12 points and three steals.
East Ridge committed 28 turnovers, while Betsy Layne turned it over 25 times.
Betsy Layne won the points off turnovers battle, 26-10. East Ridge outscored the Lady Bobcats 24-22 in the paint, while Betsy Layne had more bench scoring than the Lady Warriors 20-5.
Sarah Tackett had a double-double to lead East Ridge. Tackett scored a game-high 19 points and pulled down 10 rebounds. Kyra Looney and Leah Wells each scored 10 points for the Lady Warriors. Rayanna Slone added four points and Breanna Taylor had three. Haley Parks had two points and eight assists.
Betsy Layne (4-12) will take on Prestonsburg at 6:00 p.m. Saturday night at the Appalachian Arena in the 15th Region All "A" Classic.
Betsy Layne    15    13    10    21    — 59
East Ridge    9    5    16    20    — 50
Betsy Layne — Amelia Blackburn 16, Alexandria Jarvis 15, Madilyn Meade 12, Katie Kidd 5, Lauryn Watkins 4, Kenadie Boyette 3, Lilly Tackett 2, Laci Hall 2.