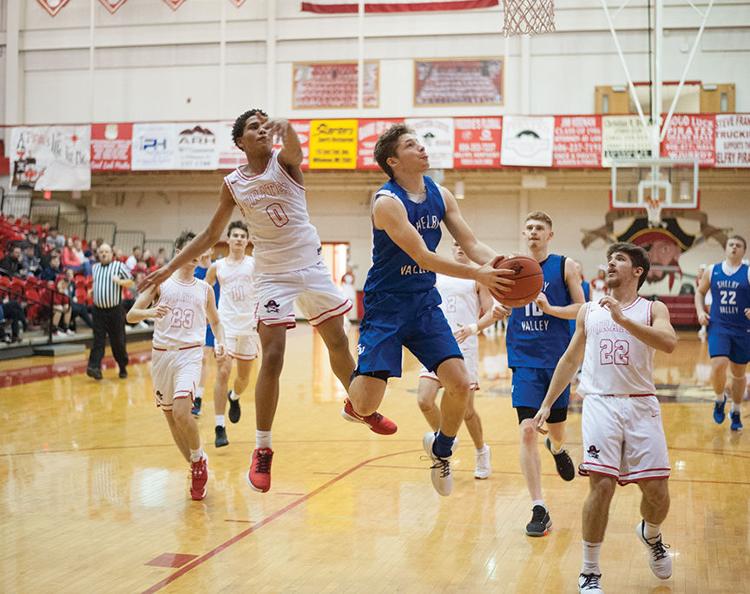 BELFRY —The Shelby Valley Wildcats secured a 88-79 win over the Belfry Pirates Friday night.
The game was fast-paced and saw both teams with players scoring 30 points or more.
In the first quarter, the teams traded buckets regularly to keep the score even at 15-15. The three-point shots were dropping early for Belfry, but Shelby Valley's Cody Potter answered with a three of his own. Soon after, he was fouled on the three-point line and converted on all three of his free throws.
In the second, the Wildcats started strong with a 6-0 run in the first minute with four of those points being off two offensive rebounds and put backs from Shelby Valley's Eli Sykes. The quarter was played fast and was very high scoring, but Shelby Valley outscored the Pirates 24-16 to give themselves a seven-point lead at halftime.
 After the Wildcats led the Pirates 39-32 at the half, they seemingly came out even stronger. After both teams traded three-pointers, the Wildcats went on another 7-0 run and outscored the Pirates 25-23 in the third which gave them a 64-55 lead going into the final eight minutes.
The final quarter was much like the opening quarter with both teams trading buckets back-and-forth, but with Shelby Valley's nine-point lead it was too much for the Pirates to overcome.
Shelby Valley's Cody Potter led the team with 30 points with Eli Sykes adding 23 points. Four Wildcats were in the double digits with Kaden Robinson adding 13 points and Zach Johnson adding 11 points.
Belfry's Sal Deen had a great night with a game-high 31 points. Austin Hager also added 23 points, with Jay Thompson and Tyler Chaffin adding 9 points and 8 points respectively.
Shelby Valley (17-5) is scheduled to visit Pike Central at 7:30 p.m. Wednesday night.
The Wildcats followed the 88-79 win over Belfry Friday night, with a 75-58 win over 59th District rival East Ridge Saturday night.
Potter scored 30 points and pulled down 14 rebounds to lead the way for the Wildcats. Potter knocked down four of his eight three-point attempts.
Robinson scored 14 against the Warriors. Worrix followed with 11 and Sykes scored 10. Johnson finished with seven and Chaz Brown chipped in with three.
Belfry (7-10) is scheduled to host Paintsville at 7:30 p.m. this evening.