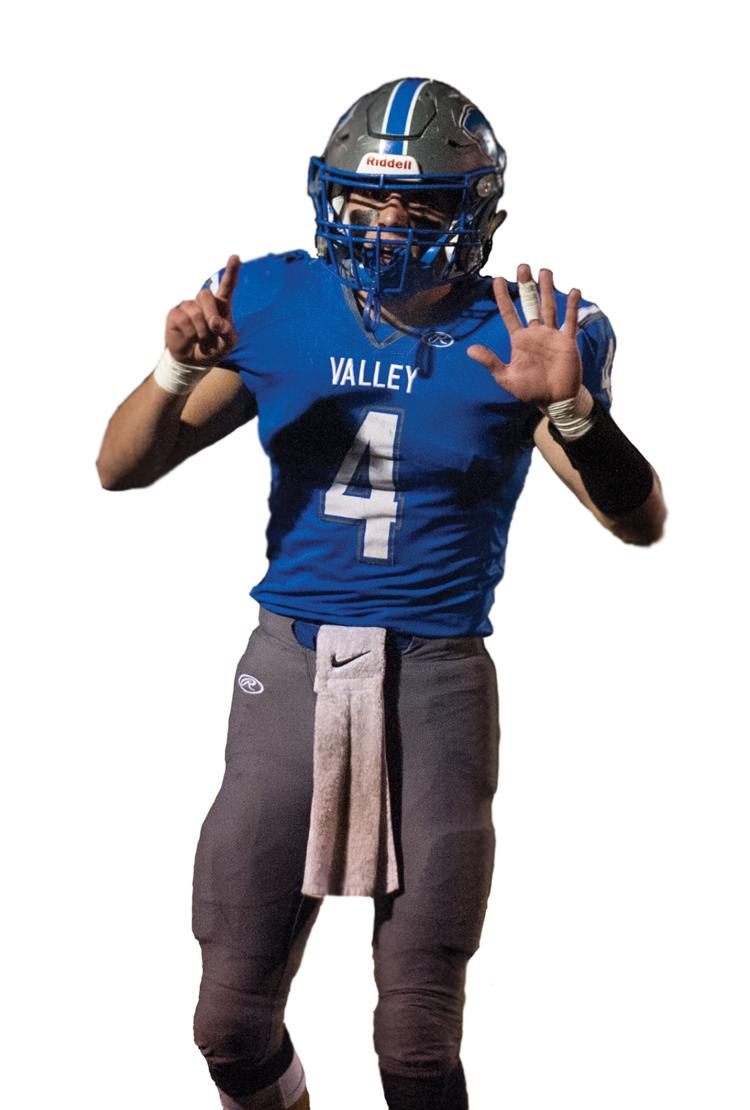 Dalton Meade scooted down the Shelby Valley hallways with a smile on his face Tuesday morning.
He was in a boot and not walking. He was using a scooter to help him get around.
But that wasn't the case last Friday night.
He was on the football field.
Rewind two weeks ago in the opening round of the Class 2A playoffs against Martin County, he suffered a linsfranc injury on his foot.
The linsfranc injury is when one or more of the metatarsal bones are displaced.
He didn't leave the Martin County game after suffering the injury. He returned to the lineup and helped lead the Wildcats to a 41-24 win.
He finished that game with 133 yards rushing and two TDs on 16 carries.
He was on crutches all of last week and in a walking boot.
The coaches didn't think he was going to play last Friday against West Carter in the second round of the Class 2A playoffs, but Meade wasn't going to sit out because of an injury. He had to be out on the field with his teammates.
With him on the field, the Wildcats jumped out to a 12-0 lead over West Carter.
That didn't last long as the Wildcats ultimately fell to the Comets 50-12.
The loss ended Shelby Valley's season and Meade's high school playing career. The Wildcats finished the season with a 9-3 record.
"It was very uncomfortable the entire time," Meade said. "It happened very early in the Martin County game. I tried to finish that game. I think the reason it boils down to why I played on it was, I knew I wasn't going to be worth much in the West Carter game and I wasn't worth much at the end of it and I couldn't run, but I feel like the leadership that I brought was going to help the team. That was something that we needed, so I tried to be out there for my team. That's what it boils down to."
Last week against West Carter, Meade had seven carries for 31 yards.
In the backfield along side of Meade Friday night was freshman Jayden Newsome and sophomore Ethan Bentley. He wanted to be there to help calm the young running backs in the high pressure playoff game.
"I thought that was important," Meade said. "They're heck of a players. At that age and when you're that young, your nerves run high and I thought that I could help in that sense. I couldn't run the ball, but I wanted to help in some way."
He also wanted to be there with his offensive line. The guys he ran behind the past four seasons.
"I played with some of these boys just in high school and some of them I've played with since I was three years old," Meade said. "Finishing out the way we did, it isn't what we wanted because we had higher expectations and higher goals, but I feel like overall we had a good season. It meant the world to me to finish the game out with the kids I've grown up with.
"I've watched everyone of those guys develop the same way that I have. From freshman year to sophomore year all the way up to our senior year. It's been a pleasure to run behind them the entire time. They make my job easier that's for sure."
Besides being there for his teammates, he wanted to be standing on the field in his last game, not watching from the sidelines.
"That's another thing, not only being out there for my team, but when it's your last game it hits different, so that came down to it to," Meade said.
He's heard some people say his efforts are inspirational or that he's been a positive influence on the younger players.
"It means the world because you see the kind of impact you have on kids and you don't think you're doing anything, but in the process there are people looking up to you the whole time. That means the world."
Meade finished the season with 1,861 rushing yards and 27 TDs on 153 carries.
It was his first season at quarterback as well. Meade was 17 for 52 passing for 387 yards and four TDs with three interceptions.
On defense, Meade finished with 80 total tackles. He also came up with two interceptions.
The next step is college for Meade.
If any coaches are looking for toughness, leadership and heart — he's the kid for your team.
"I'm not the biggest kid in stature, but I feel like I play with a lot of heart," Meade said. "I think that will take you further than athleticism or anything like that will. I feel like that is what it boils down to is that I'm just a kid who is going to give it 110 percent."