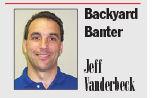 If you know me, you know that I don't like to go on vacation or travel much. Occasionally, I have to travel for work, which is not bad because I only have to worry about me.
Last week, I traveled for work and became the laughing stock of the Atlanta airport. I left Lexington early Monday to arrive in Branson, Missouri, to visit one of our sister papers. Since there are no direct flights from Lexington to Branson, I had a layover in Atlanta.
When I arrived in Atlanta, I had about an hour to kill so I checked emails, voice mails, checked in with my wife and office staff and coordinated my day from the field.  
I checked the big screen for the departing flights and noticed I had to go to another terminal, which was halfway across the airport. I have a bad hip so walking lately for me is painful and cumbersome. I took my time going to the D terminal while about 100,000 other people were rushing to get to their terminal.  
In an effort to not aggravate my hip, I used the escalator on my way to the underground train that runs to all the terminals. As I got off the escalator the train was loading and people were trying to fill the cars before the doors closed. The doors started to close on some guy who was trying to be the last one on. I thought, "What a dope, he can't be in that big of a hurry."
The doors reopened to let the guy on and stayed open for a few seconds. I was about five feet away and figured I would make a run for train before the doors closed again.  I knew immediately I made a bad decision.
I moved as fast as I could with my suitcase in tow to get on the train. I got on but the doors closed on my hand with my suitcase on the loading dock. CRAP!!!! The riders in the train looked at me like I had issues. One guy said to leave it there because the train will rip my hand off.
A guy on the dock motioned that he would hold my bag for me, which I thought would create an international incident. When you go through security checkpoints they make you feel like a criminal. I was chastised for having shave cream in my carry-on. I couldn't imagine what would happen in this case.
The train stopped about 300 yards away. I got off the train and sprinted like OJ through the terminal back to the original loading dock where I left my bag. I saw my bag and the guy watching over it just like he said he would.
That guy was on my flight from Lexington, and I gave him a handshake and said Kentucky people are the best, but I feel like an idiot. He smiled and said no problem. The rest of the trip, compared to that, was uneventful.
Thanks for reading the News-Express.