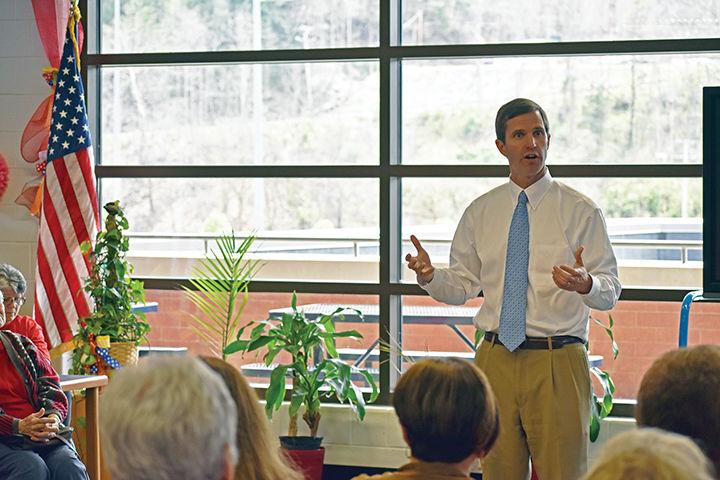 The hard-fought, bitter battle to determine who would sit on the bench in the Pike County Family Court was decided Tuesday, with sitting Judge Kent Varney retaining his seat.
Varney captured a 14-percentage-point-victory in Tuesday's general election over challenger Justin Cory Hamilton, besting Hamilton 57 percent to 43 percent, according to unofficial results from the Pike County Clerk's Office. Varney will retain his Family Court judge's seat, to which he was appointed earlier this year by Gov. Matt Bevin to fill the unexpired term of Judge Larry Thompson who was elected to the Kentucky Court of Appeals.

Bevin, himself, was seemingly narrowly defeated statewide by Democratic challenger Attorney General Andy Beshear, despite winning in Pike County by about 11 percentage points. Bevin has yet to concede the race to Beshear.
Varney told the News-Express after all of the results from Pike County's 58 precincts were returned that he will continue the work he already has underway in Pike's Family Court.
"I want to finish off what I've been doing for the last seven months, and that's helping people, helping families transition, helping people learn how to co-parent," Varney said.
Varney also thanked Pike County's voters for electing him as Family Court judge.
"You cannot do one thing by yourself, it takes a team effort," Varney said of his supporters. "This victory is just not for me but it's for everyone who supported me, so thank you very much."
According to the unofficial results from the election, Varney received 8,705 votes in Pike County to Hamilton's 6,606 votes. In absentee voting, Varney received 271 votes to Hamilton's 211, the results show.
The Pike County Family Court judge race got contentious as election day neared when accusations of campaign sign theft overshadowed the race. Hamilton had long claimed that his signs were being stolen or removed from various areas around the county. Then, in October, Hamilton's father was charged with theft for allegedly stealing one of Varney's campaign signs in Pikeville. Hamilton accused Varney's campaign of fabricating the situation which led to the charge and claimed the sign removed was one for failed governor candidate Robert Goforth and not one of Varney's. On Oct. 26, one of Hamilton's signs was allegedly vandalized and damaged just south of Pikeville along U.S. 23. Hamilton again claimed Varney's campaign or his supporters were responsible.
Varney told the News-Express that he attempted to run a positive campaign.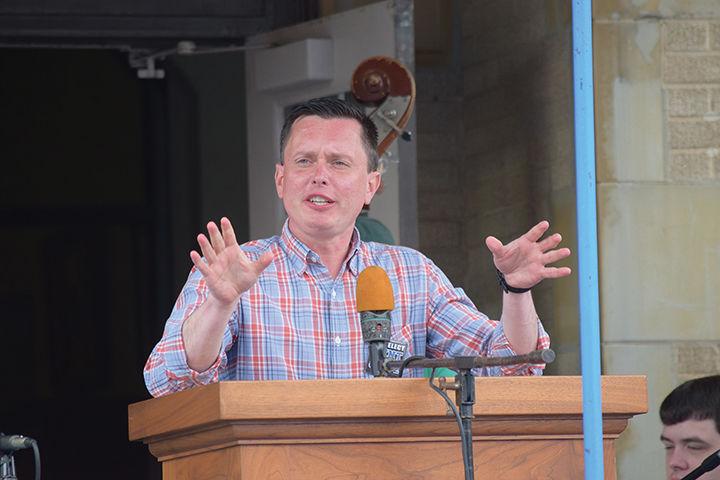 "Family Court's a very serious place and you have to make tough decisions and you need to go into that office untainted through negative politics," Varney said. "So I think it proves a point that negative politics and negative campaigning is not what the people of Pike County really want."
After the election, the two men congratulated one another on the hard-fought race. In a Facebook post Wednesday morning, Hamilton congratulated Varney for his victory.
"Congratulations to my opponent!! My only hope is that you always put the protection of our county's children first and give them the voice they deserve and need," Hamilton wrote.
Varney told the News-Express that he respects Hamilton and wishes him the best.
Tuesday's general election saw a higher-than-expected voter turnout. According to the Secretary of State's website, the statewide voter turnout was 42 percent. In Pike County, 35 percent of registered voters cast ballots in Tuesday's election. According to the website, there are 49,414 registered voters in Pike County, and 17,068 of those voted Tuesday.
Secretary of State Alison Lundergan Grimes had predicted that statewide voter turnout for Tuesday's election would be about 31 percent. Instead, the election, according to the Courier Journal, saw the highest voter turnout since 1995, when 44 percent of voters cast ballots in a race which saw Democrat Paul Patton defeat Republican Larry Foggy.
Republicans roll in Pike and state
Tuesday's election saw a further shift in Pike County to the right.
The county's voters propelled Republicans seeking statewide office to a sweep in Pike County in the races for governor, attorney general, secretary of state, auditor and agriculture commissioner. All of the Republican candidates in those races, with the exception of Gov. Matt Bevin, went on to claim decisive victories in Tuesday's election. Bevin, however, had not yet conceded defeat to Democratic Andy Beshear.
According to the unofficial results from Tuesday's election, Bevin cruised in Pike County, besting Beshear by a margin of 54 percent to Beshear's 43 percent. Libertarian candidate John Hicks took in about 3 percent of the vote. According to the unofficial results, Bevin received 9,011 votes in Pike County to Beshear's 7,131. Hicks took in 466 votes.
According to statewide unofficial results, Bevin was narrowly bested by Beshear, losing by less than one half of a percentage point.a
According to the unofficial results, Beshear squeaked by Bevin, receiving 49.19 percent of the vote to Bevin's 48.83 percent. Of the more than 1.4 million votes cast, Beshear received 709,577 votes to Beshear's 704,388. Hicks received 28,425 votes. Although Beshear claimed victory Tuesday evening following the election, Bevin has yet to concede defeat and will likely challenge the results either through recanvas or recount.
In the race for secretary of state, Republican Michael Adams bested former Miss Kentucky, Democrat Heather French Henry, 52 percent to 48 percent. In Pike County, Adams bested Henry by a wide margin, 59 percent to Henry's 41 percent.
In the race for Attorney General, Republican Daniel Cameron bested well-known Floyd County Democrat Greg Stumbo 58 percent to 42 percent. In Pike County, Cameron defeated Stumbo 57 percent to 43 percent.
In the race for state auditor, Republican Mike Harmon was successful in his re-election bid, besting Democrat Sheri Donahue 56 percent to 41 percent. Libertarian Kyle Hugenberg received 3 percent of the vote. In Pike County, Harmon received 60 percent of the vote to Donahue's 37 percent and Hugenberg's 3 percent.
In the state treasurer's race, Floyd County Republican Allison Ball defeated Democrat Michael Bowman by wide margins, both in Pike County and statewide. In the statewide result, Ball received 61 percent of the vote to Bowman's 39 percent. Pike County voters overwhelmingly chose Ball, giving her 66 percent of the vote to Bowman's 34 percent.
Republican Agriculture Commissioner Ryan Quarles also won re-election by a wide margin. Statewide, Quarles won by a margin of 58 percent to Democratic challenger Robert Conway's 39 percent and Libertarian Josh Gilpin's 3 percent. In Pike County, Quarles received 60 percent of the vote compared to Conway's 37 and Gilpin's 3 percent.