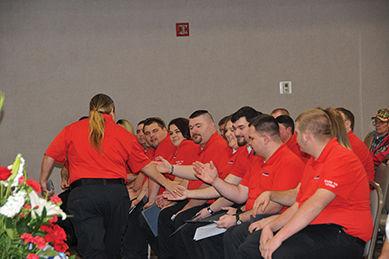 PRESTONSBURG — Lifeguard Ambulance hosted a graduation ceremony for students in its Earn to Learn program on Jan. 22 at Jenny Wiley State Resort Park.
The company paid students who attended the 12-week class and hired them after they earn certification. Officials reported that 26 people signed up for the course and 21 of them graduated.
"The positive thing is there's going to be people on the road with life-saving skills and ability to be able to better respond to the community and the needs of the community," said Bart Francis, the medical director for ARH and medical director for Lifeguard. "And it's an opportunity. It's a good job with good benefits in our region. Hopefully a lot of these folks will go on to be paramedics with advanced life-saving skills and they'll work and live in our region, contribute to the economy and contribute to the healthcare."
Lifeguard Earn to Learn program instructor Denessa Mullins praised the students, describing them as dedicated and passionate
"They're some of the best kids I've ever seen," she said. "They're great individuals. They're going to make a good impact on the public. They're just very respective kids, and, you know, throughout the program they've learned basic life support, CPR, how to splint, everything an EMT does. And they have accomplished it well."
The students underwent 700 classroom hours, in addition hours they spent in "ride time" with paramedics and EMTs and studying to pass state and national tests required.
"They have to be devoted, give 110 percent until the end of class, because if they don't they won't succeed," she said.
The Lifeguard Earn to Learn program is the first such program in Eastern Kentucky, officials said, that pays people while they are earning certification.
"When they first come in, some of them didn't even have a clue what they were entering. And now, as I look at them today, they've come to the top of the mountain and they have really learned and they know exactly what they would need to do to take care of anybody."
Elizabeth Janie Ward, regional director for Lifeguard parent company Global Medical Response, said she was excited to "celebrate these students" who completed the Earn to Learn program.
The company started the 12-week program in the fall, and some of the students who participated in the graduation ceremony on Wednesday are already working as EMTs for Lifeguard.
"So, that's 21 new EMTs that are going to be helping us staff our trucks in Floyd County and Eastern Kentucky, so we're really excited about that," Ward said. "There's been short staffing in Eastern Kentucky. It's actually a nationwide shortage. This is one of the things that we're doing to fix the problem. That's the story we want to tell people, is that we are doing things. It's not a quick fix, though, because you have to train people and it takes time to do that."
She said the company is currently offering sign-on bonuses for new employees and offers tuition reimbursement for EMTs who have worked for the company for a year and want to become a paramedic.
"I've got three EMTs from Pike County getting ready to start a paramedic program within the next 30 days," she said. "We're really excited about that, too. For this, we're just so glad to have these guys come on board. Some of them are already starting to fill those shifts in the trucks. We're starting to see our response times kind of edge back down, and I can't wait to get another class going."
Whitney Lewis, 25, of Banner, was working at a gas station before signing up for the program at Lifeguard. She said she started searching for EMT classes after her grandmother became ill several years ago.
"I've always wanted to help people and I thought that EMTs was one of the best people that could help anybody. They're the ones that's there first before the nurses, doctors and everything. I thought, well, if they can help my mammaw that much, then I can, too," she said.
She said she could not have become an EMT without the program.
"It's a very rewarding job, very rewarding career to go through," she said. "I was just working at a gas station before this even started. I was really excited when I got accepted into this, because I've always wanted to find something that I could make a living off of, and make a career and be something. I feel like this is probably one of the best career choices."
Johnson County resident Kevin Kidd said he's taken EMT classes before but couldn't pass them until he took Lifeguard's course. He earned certification on the national registry in December and started working as an EMT.
Prior to signing up, he working in oil fields, where he'd travel away from home for weeks at a time. He wife, children and parents watched him graduate on Wednesday. He said he could not afford to take EMT classes, or miss work to do so, prior to the Lifeguard program.
"We come to class. We got paid. We were full time employees. I'm very grateful for that," he said. "I don't think I could have done it because the class alone is, like, $1,200."
When asked how the program changed his life, he said his salary as an EMT was "the farthest thing down the list."
"Well, the money aspect, but to be honest with you, that's the farthest thing down the list," he said. "With stuff I've already seen, people I've helped. It makes it worthwhile ... It means the world to some of them. You have to have a heart, but you've also got to have a mindset. You got to be able to control your emotions and when the time comes, you've got to be support for that family that just lost a loved one while you're there."
That's why Prestonsburg resident Colby Blanton said he wanted to become an EMT. A veteran, Blanton said he also worked in oil fields in several states and held other jobs prior to signing up for the Lifeguard program. He said he has always been interested in medicine and has a compassion to help people in need.
"Had I been given the opportunity and I had it to do over again, I would have hopped on the emergency medicine band wagon a long time ago," he said. "I spent almost 15 years in the oil fields. It was tumultuous. You don't know if you're going to have a job one day to the next."
He plans to continue his training to become a paramedic.
Bert Absher, director of operations for Lifeguard, encouraged families of the graduates to support them in their new career.
"When they come home, you're going to say, 'How was your shift?'" he said, "and they're not going to want to talk about it ... I want you to know that they're going to work long hours and they're going to miss birthdays and they're going to miss Christmases. They're going have a hard time scheduling vacation. But what I've learned over the years is you don't have to have a birthday party on the day of the birthday. You don't have to have Christmas on Dec. 24 or 25. Christmas is made with your family, so appreciate those guys and help us help them grow in this profession."
Ward said Lifeguard will host another Earn to Learn program in the spring, and said officials are considering offering that program in Pike County.
Officials reported that the graduates came from Floyd, Johnson, Pike, Magoffin and Knott counties. They included: Colby Blanton, John Little, Jonathan Blackburn, James Maynard, Heather Coleman, Seth Ousley, Jeffery Caleb Combs, Keegan Pigman, Robert Dalton, Jonathon Prater, Dillon Green, Alexander Scott, Cody Goble, Garrett Smith, Stephanie Kairn, Silas Smith, Kevin Kidd, Ambrianna Tackett, Whitney Lewis, Kristen Taylor and John Little.