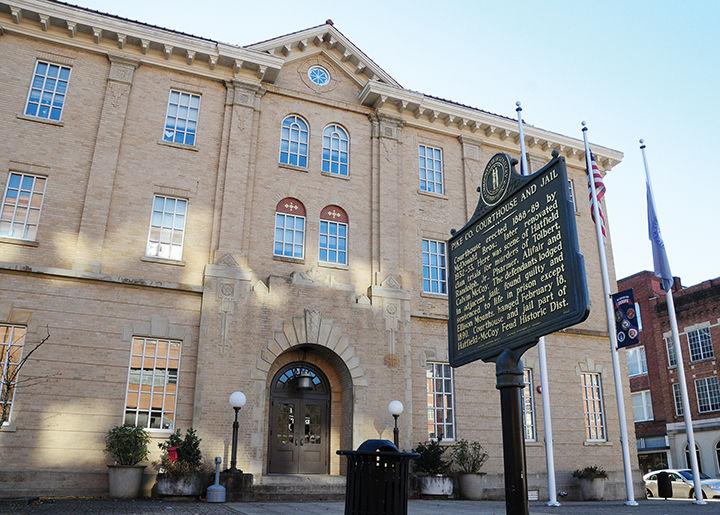 After agreeing to work with Pike County Fiscal Court officials in order to present a more accurate proposed budget in the days leading up to Tuesday's regular meeting, Pike County Clerk Rhonda Taylor submitted a new budget proposal, which included a $60,000 supplement, instead of the previous $325,000 she had requested. However, given some new information, Pike County Judge-Executive Ray Jones and the court requested Taylor submit a new budget without including a supplement, as it appears the clerk's deficit may not be as substantial as first believed. Despite spending the second straight meeting discussing this topic, the clerk's budget is no closer to being acknowledged after Taylor failed to return to Tuesday's meeting after informing the court she already had a budget prepared, which did not include a supplement, and all she needed to do was run down and grab it from her office.  
During Tuesday's meeting, officials received a new budget proposal from Taylor which included a number of changes from her previous proposal from the least meeting. Pike County Treasurer Frankie Stacy said he had looked over the budget over the last "hour or so" and it appeared Taylor had made some of his recommended changes to her budget proposal.
According to Stacy, who, at the last court meeting was asked to work with Taylor and her office on preparing a more accurate budget proposal, Taylor made some changes to the "misleading" numbers on the prior year's budget, which she had presented last meeting.
Stacy said those 2018 and 2019 calendar year numbers on the prior budget were "budget numbers" instead of the office's revenue numbers and that Taylor had changed those to "actual" received numbers for the year.
One other change Stacy said is that Taylor has exchanged her estimated receipts from the prior proposal and has budgeted what she "actually" collected last year. He added that her expenses do balance to offset the estimated revenue number
However, Stacy said that Taylor was still asking the court for a supplement to cover her prior year surplus.
"The supplement she had asked for last time was $325,000," Stacy said. "This time, she is asking the court for $60,000."
Jones said that the problem at the last meeting was because Taylor's numbers were "inaccurate."
"The budget amounts that were set forth in your initial budget of more than $1.6 million for 2018 and more than $1.3 million, those numbers were about $700,000 incorrect," Jones said. "They were $700,000 off what the actual receipts were."
According to Taylor, that was due to the fact those numbers were based upon a "budgeting practice" that in her words had been "handed down from the '80s and '90s." Jones said he didn't want to "point any fingers at anyone," but there have been a lot of practices done by prior administrations, but doesn't mean "they are the correct ones."
He added that the court is responsible for acknowledging the clerk's budget and after looking through prior budgets, Jones said if he'd have been county judge at the time of those budgets, he would have "never" approved acknowledging those past budgets.
"This court is not unsympathetic to the fact that you had to make cuts and like us, you're having to shoulder more pension costs and there are things beyond your control," Jones said. "But, there are some things we have questions about too."
Jones said it's his understanding that, during the last legislative session, the General Assembly raised a number of fees for the clerk's office. Jones said he believed the court needed to know whether Taylor had factored those increases into her budgets.
According to a 2019 article from the Messenger-Inquirer, more than 60 filing fees were increased. Some of those include:
• Deeds increased from $17 to $50, with an extra $3 built-in per page after five pages
• Mortgages increased form $17 to $80
• Marriage licenses increased from $35.50 to $50
• Power of attorney increased from $17 to $80
• Wills increased from $8 to $47
Jones asked Taylor if she or anyone in her office has done any kind of analysis over the past couple year, in order to factor in any of these increases to see how much additional revenue those increases would bring in. Taylor said that there is a "possibility" that may amount to about "$20-some thousand." However she added, that those funds would need to be used to help cover the salary cost for the remaining employees in her office.
Jones said that another thing concerning the court regarding Taylor's previous budget proposal was the fact that she had added two positions.
"In fact, your employer insurance cost was budgeted a lot higher than what we believe the actual cost would be," Jones said.
Taylor acknowledged the fact that her office has a "really high" insurance cost, but added that she had received a number of quotes in the last few days and informed the court she would be making a decision regarding that matter in the next few days.
"We're going to save quite a bit, but we're not going to save so much that it's going to make that much of difference in this budget," Taylor said.
She added that he hasn't factored in those possible insurance savings into the new budget as she doesn't know how much her office is going to save.
According to Jones, if Taylor's office switched to the insurance company from which the fiscal court had helped get a quote recently, then the total proposed savings towards her office's health and dental plan for this year would be more than $31,000, with next year's projected savings increasing to more than $48,000.
Jones said if Taylor switches insurances and factors in the additional revenues from the fee increases, the General Assembly passed last year, those numbers could equal out to be "almost $60,000," which he said would almost cover Taylor's newly-requested supplement amount.
"My proposal would be, that you submit a budget without the supplement in it and when we come back here to do our budget in July, we will know where you are," Jones said. "We will be able to look at your revenue halfway through the year at that point, and we'll have an idea of what you're going to be short."
He added that the court is receptive to helping Taylor and her office, but wants to see the possible savings that could be factored in, so that the court will have a proper idea on what the clerk's office's needs are.
"If you can get us a budget with no supplement, we will absolutely look at what your needs are in our next budget," Jones said.
According to Taylor, who said she has been through this type of situation before, there is a budget prepared that does not include a supplement. However, she did add that it included two employees being "cut."
"I'll go down and get it then bring it to y'all so you have plenty of time to look at it," Taylor said.
Jones said that, if Taylor has a few days to work on her budget, he suggested allowing Deputy Judge-Executive Reggie Hickman and Stacy to help her, as he's not sure that she'll need to layoff two people.
"If you lay two people off, that clearly puts you in the black," Jones said. "But, what I think we should look at is the number of transactions per person, to see how your transactions are doing."
According to Taylor, that isn't going "really make any difference," because no transaction is the same. She added that, even if she did take into account the increased fees and the savings from switching insurance, if she kept those two employees then her office will "probably, more than likely, maybe" break even.
"The budget that I'm submitting to you will not work without those cuts," Taylor said.
Stacy said that it doesn't mean she has to lead by cutting those employees "right off the bat," something with which Jones agreed. He added that, if Taylor would factor in what the court is advising, there may not be a reason to lay off those employees.
Taylor said she needed to get her budget in to the state and that there was no reason to call another meeting or have her come before the court, as each time she does, it doesn't help the "public perception" regarding what is actually going on. She added that the budget in her office was "balanced," including those cuts and that she would bring it to the court to evaluate.
The court continued its meeting. However, Taylor did not return with the budget she had mentioned previously. Jones addressed the situation during the judge-executive comments portion of the meeting.
 "I hope that people realize that our questioning of the clerk and our scrutiny of the clerk was nothing personal," he said. "I think every member of this court has respect for Mrs. Taylor."
Jones said he was under the impression that Taylor was going to bring a budget back before the court before adjournment for approval and that the court will call a special meeting at her convenience to acknowledge the budget, if nescessary.
"All this court's asking is, before we consider any kind of supplement, is that she realize the savings that we know that can be realized on the insurance side and to factor in the fee increases that the legislature passed," he said. "There may not be a $60,000 shortfall. There's no reason to lay anybody off."
Jones said the court would be "amenable" to helping Taylor with a supplement after she's taken the necessary steps to attempt to balance her budget without it.