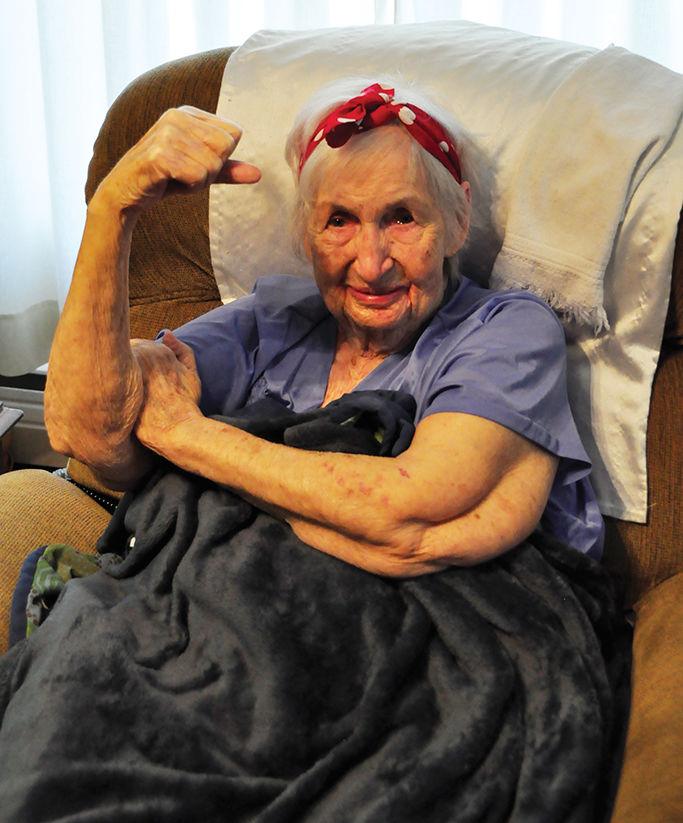 Georgia Pelfrey Syck, 98, of Pikeville, never thought twice about serving her country.
While working for three different famous military plants during World War II, Georgia became one of hundreds of women known as "Rosie the Riveters," women who worked in factories or shipyards during the war producing ammunition or war supplies.
The name came from a famous wartime poster created by J. Howard Miller in 1941, on which a woman was displayed wearing a polka-dot bandanna, holding up a fist and shouting, "We Can Do It!" The American government developed the advertisement to persuade women to take up more laborious work to replace men who went to serve in the military.
Although the icon has recently become a symbol for women empowerment, Georgia said, that was not the reason why she and her friends, Myrtle Cantrell Pelfrey and Eloise Preston, chose to serve. They viewed their service in the military factories as their civic duty.
"Everybody wanted to help the war,"
Georgia said, smiling. "Not everybody could, but people did everything they could do. We just thought it was something we had to do."
After the war ended, Georgia returned to Pikeville, where she remained connected with her faith and her community as the once-small town blossomed into the hub of Eastern Kentucky.
Before the war
Georgia's journey started in Morgan County in 1922, as she grew up one of five children on her parents' small farm. Georgia and her family lived in a weatherboard house without running water or indoor plumbing. While her family did not make a lot of money, she said, she and her siblings — LaRue, Archie, Clark and Guthrie — never went hungry because they grew much of their own produce, meat and dairy on their family farm.
At the start of the Great Depression, Georgia's family moved to Pike County. She attended a one-room schoolhouse and gained an eighth-grade education. Although she never attended high school, Georgia said, that was common at the time for many children living in Eastern Kentucky.
"At that time, an eighth-grade education was a good education," she said. "You wasn't close to a high school, and you didn't have buses or anything then. Even my mother's family and my father's family, living out in the country in Morgan County, they were well-educated. At that time, that was well-educated."
After graduating from the eighth grade, Georgia chose to continue working on her family farm and with babysitting. When she turned 18 years old, she worked at the Murphy's candy counter and at her neighbor's dry-cleaning business.
"I wanted to work, tell you the truth," Georgia said.
Then, on Dec. 7, 1941, Georgia and her family were shocked when they heard news of an attack that would live in infamy in the nation's history. That morning, Japanese planes had attacked the U.S. Naval Base at Pearl Harbor in the Hawaii territory, and the U.S. had declared war.
"I just remember I was home. It was on a Sunday," Georgia said, who was 19 years old at the time. "We'd all been out doing the normal things we did, just having fun, and then we all came home and my mother announced—she had heard it, of course, on the radio—that we were in a war."
Georgia said the war was a "major concern" for the families in her small community because almost every able-bodied man went to serve in the military, as well as many women. Georgia's two brothers and sister enlisted, and Georgia said that she felt like she needed to do her part to help her country, too.
"Everyone was involved in the war effort in some fashion," Georgia said.
Although her parents worried about her, Georgia said, they were supportive of her decision to work in the factories, and they and her brother Guthrie, who was 10 years younger, would often write her letters.
"They were very supportive because they didn't worry about us doing these things during World War II," Georgia said. "I think everybody was just interested in trying to help move it along."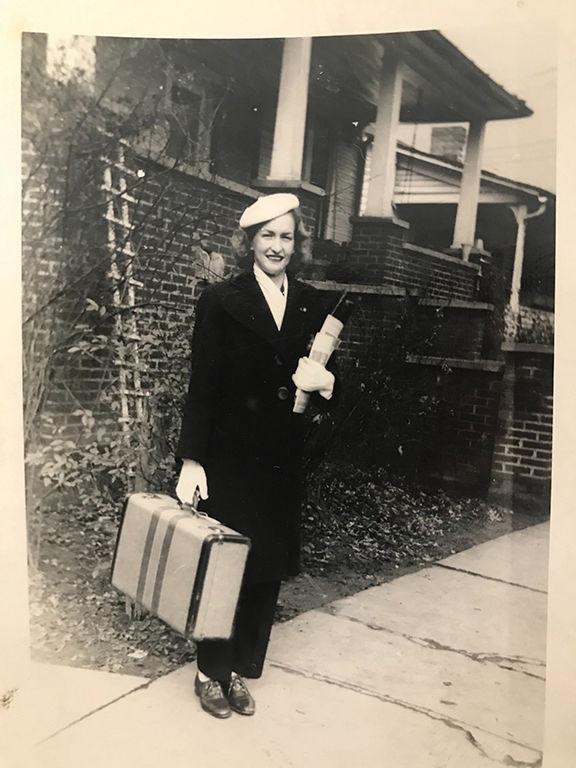 Working at Willow Run
Georgia and her friend, Myrtle Cantrell, who would later become her sister-in-law, first learned about a factory where they could work, which was the Shell Plant in Chillicothe, Ohio.
"They needed workers real bad up there," Georgia said.
Georgia, Myrtle Cantrell and another friend got an apartment near Piketon, Ohio, where they stayed and worked at the factory for a short time, making 20mm bullet shells for the U.S. Navy. Soon, though, Georgia and Myrtle moved on to work at the Ford Willow Run B-24 bomber plant near Ypsilanti, Michigan.
"We had some relatives working in Ypsilanti, and they wanted us to come there to work," Georgia said, smiling. "They insisted that we'd like it up there. We finally took the bus and went to Michigan."
Built in 1941, the Willow Run plant became famous throughout the country as one of the first manufacturing plants in America to build military aircrafts through an assembly line. Willow Run consisted of a major airport, a 5 million square-foot manufacturing plant and a village for workers. About 40,000 workers across America were recruited to work at Willow Run, according to "Save the Willow Run Bomber Plant," a campaign to preserve the historic factory.
Georgia and Myrtle met Eloise Preston, of Paintsville, at the plant, and the three Eastern Kentucky natives roomed together in a female dormitory provided by the plant. They lived across from the cafeteria and took a shuttle bus every day to get to the plant.
"It went smoothly," Georgia said. "We had a nice bathroom with large wash basins and showers. We lived close to the cafeteria. They had really good food there."
Georgia and Myrtle worked in the wing section of the plant as riveters and buckers, while Eloise worked in a different section of the plant during their shifts. A riveter used a gun to shoot rivets through metal on the sections of the airplane, and a bucker used a bucking bar on the other side of the metal to smooth out the rivets, holding the plane together, according to the Library of Congress.
Georgia said that some men worked alongside the women in the factory, and the efficiency of the system allowed for them to work well together at Willow Run. Georgia worked on a scaffolding with six or seven other workers while she placed the rivets in the wings, which made them work more efficiently in the moving assembly line.
"Everybody was good," Georgia said. "Everybody tried to get along, and we was just helping out. It wasn't real hard. Once you got used to doing it, it was easy."
All of the workers in the plant wore earplugs while they worked, to protect their hearing against the loud machinery. Many of the female workers needed to cover their hair, which was where the famous "Rosie" bandanna originated from—although, Georgia said, the bandannas were not polka-dotted.
"We wore pants. We had to keep our hair covered," Georgia said. "That's why we wore the bandannas, to keep your hair from getting caught in anything. I suppose we had on a little apron while we were doing the riveting because you had to have something to keep supplying the rivets."
Georgia worked two different eight-hour work shifts that would switch at times, from 3 p.m.-11 p.m. to 11 a.m.-7 p.m. She earned $1 an hour, and she said that she came out with about $1,000 in war bonds by the time she left Willow Run.
"It didn't take a whole lot of money to live because everything was very inexpensive and, of course, you didn't make a lot of money to begin with," Georgia said. "You were able to save a lot of money."
The country shifted its focus in production during the war, from consumer goods to war supplies, and it was difficult for civilians to purchase cars. When they wanted to leave the plant, Georgia and her friends used public transportation if they wanted to visit the local town or if they wanted to return home. After the war, it would take her and her soon-to-be husband, Bill Syck, about two years to be able to find an available car for purchase.
During WWII, food was in short supply because many processed or canned foods were shipped overseas to be used for the military. Transportation of fresh foods was also limited due to the rationing of gasoline and tires and the priority of transporting soldiers and war supplies instead of food.
The government distributed rationing books during the war that contained removable stamps good for certain rationed items, like sugar, meat, cooking oil and canned goods. Once a person's ration stamps were used up for a month, the person could not purchase more of that type of food, according to the National WWII Museum.
However, Georgia said the rationing, like many things during the war, did not bother her too much.
"We just did what we had to do," Georgia said. "We were happy to be doing what we were doing."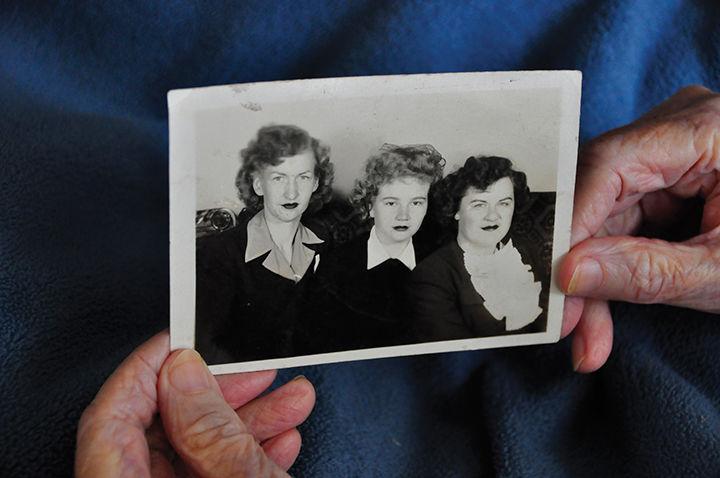 The secret factory
After the war in Europe ended in May 1945, the Willow Run plant closed down. Georgia returned home with Myrtle and Eloise to Pikeville and Paintsville and soon reunited with her sister and brothers. She stayed home for a few weeks until Eloise told her about another opportunity to work and help the war, this one coming from Oak Ridge, Tennessee.
"We weren't doing anything," Georgia said, with a shrug. "We were just staying home so I said, 'Well, might as well. We'll try this one."
Also known as the "Secret City," Oak Ridge, Tennessee, became the home of a uranium enrichment plant, a liquid thermal diffusion plant and the pilot plutonium production reactor. General Leslie Groves approved the town as the site for the pilot plutonium plant and the uranium enrichment plant in 1942, and Manhattan Project engineers quickly built a town to accommodate the complex plants and 30,000 workers.
There were four production facilities at Oak Ridge, and they were located in valleys away from the town, providing security and containment in case of accidental explosions, according to the Atomic Heritage Foundation.
"It was a secret city," Georgia said. "No one knew this plant existed. We didn't even know."
Georgia and Eloise took a bus to the town, which was located just outside of Knoxville, and the two women worked closely together in different departments. While working eight-hour shifts, Georgia said that she watched dials on a machine and recorded numbers displayed on them. She received about 65 cents an hour.
"We knew we were separating something, but we didn't know what," Georgia said. "We didn't know then that it was uranium. We just done what they told us to do. We didn't have special training. You really didn't need any."
The workers did not know that they were working on the atomic bomb "Little Boy" that would be dropped by the U.S. on the Japanese city of Hiroshima on Aug. 6, 1945. While working at the Oak Ridge plant, there were strict rules about communication between the workers.
"You weren't allowed to talk to nobody about what you were doing, not even to your roommate," Georgia said. "You just didn't talk about it."
It was only on Aug. 7, 1945, the day after the bomb was dropped and had annihilated Hiroshima, that, Georgia said, she learned about what they were working on.
"We were on the job the day the paper came out," Georgia said. "That was the Knoxville paper, but over half of the front page was the bomb that they had dropped in Hiroshima. We were all shocked to know what we were doing."
The Oak Ridge plant was closed soon after the atomic bombs on Hiroshima and Nagasaki were dropped between Aug. 6-9, 1945, and Georgia and Eloisereturned home.
After the war
Once she returned home, Georgia said, she was happy to be with her family and around her community again. Only a few community members that she knew were killed in the war.
She met her husband, William "Bill" Syck, who found work with the local power company in Pikeville after serving in the war. They got married in 1946, and remained married for almost 60 years.
"Bill was a good-looking boy," Georgia said, with a laugh. "Bill was wonderful. I guess I just loved him. He was just good to me. I don't know how to explain it, but we got along so well. Everybody has a few ups and downs. If they don't, there's something wrong with them. That's what makes you grow."
Georgia and Bill had two children, Grover and Robert, after they were married, which Georgia described as a "wonderful" moment in her life. Georgia remained at home to take care of her children for about 10 years.
"Your children are special," Georgia said, smiling. "Both of them were the sweetest little fellas. We were a very close family. We had a good growing up. We had a loving family. We knew everybody up and down the valley. It was pleasant."
Grover Syck, 73, who now lives with his family in Ohio, said that although his mother often stayed busy while he and his brother were growing up, she took good care of them. He said she had mentioned her time working in the factories during the war, which was how he discovered she was a former "Rosie the Riveter."
"She would talk about it, but not a whole lot," Grover said. "She would talk about the friends she had there, not about the work that was done."
Grover said he fondly remembers traveling with his mother, father and brother as they grew up. They traveled to several places in Kentucky and Virginia and visited relatives and friends in California, Michigan and Ohio.
"We didn't travel a whole lot, but the times that we did, it was fun," Grover said.
Grover described his mother as "sort of a country girl" who has always stayed connected with her family, friends and community.
"She was always supporting and loving of me and my brother and helped us as much as she could," Grover said.
Georgia became a staple of the Pikeville community while worshipping at the Pikeville United Methodist Church and working in town. Georgia worked at her neighbor's local dry-cleaning business, at the former Dawahare's Clothing Store in Pikeville and helped her son Robert with his local jewelry store. Today, Georgia manages the W&G Mobile Home Park, located beside her home near Weddington Branch in Pikeville.
She remained close friends with Myrtle and Eloise for about 50 years, until they passed away, and she has kept albums filled with black-and-white photographs, which have captured memories from the war time.
Georgia said that she never thought of her work as a former "Rosie the Riveter" as anything special before the icon gained popularity in the later half of the 20th century. She said, though, its popularity and significance does not surprise her.
"I thought it was no big deal," Georgia said, laughing. "I didn't know I was a big deal. It's something that you needed to do. If you ask anyone who did it back then like me, they'll tell you the same thing, that they were just doing what they thought they needed to do."
Leaving a legacy
Although Georgia has enjoyed her long, fulfilling life, she admitted that it has not been without challenges.
In addition to losing her older sister LaRue, her younger brother Guthrie and her husband Bill, a difficult struggle that she had to overcome was the loss of her eldest son Robert, who died in 1989.
"When I lost Robert, I thought that was the end of the world," Georgia said.
To overcome her challenges, Georgia found strength through her faith, which has been one of the most important parts of her life. She has attended the Pikeville United Methodist Church on Main Street since she came to Pikeville with her family in the 1930s.
"Well, you just had to go on, and, of course, I had Bill then," Georgia said. "I guess your church faith helps you more than anything. We were all active in church, and I think that helped me more than anything. I still can draw on that."
Georgia's legacy will live on in the connections she has made with the people of Pikeville and Pike County. Peggy Justice, an executive director at Pikeville Medical Center, has known Georgia for 56 years, and said she has always been well-connected with her neighbors. One of Georgia's sons and Peggy's older brother were good friends, and their families went to church together. Peggy said she calls her "Aunt Georgie" because of how close they have been since she was young.
Peggy described Georgia as having a "good Christian heart."
"She knows people and how they're connected," Peggy said. "She cares genuinely about people and loves to visit with people and hear what's going on in their lives."
Peggy also described Georgia as a strong, business-savvy woman with a sharp mind, even at her old age.
"Georgia has been through a lot in her life," Peggy said. "She's always persevered. She's always maintained her grace and her style, even at 98 years old. She knows what's going on in the world. She understands technology and the new ways of doing things. She has a very keen, sharp mind."
Throughout her long life, Georgia has seen Pikeville blossom and expand into the hub of Eastern Kentucky, and she said the city has become completely different from what it used to be.
"It happened gradually," Georgia said. "I think it's changed for the better. There are so many more people here and in this country than there used to be. I just hope that they all settle down and live in peace."
At 98 years old, Georgia enjoys laughing, connecting with people and practicing her faith. As she reaches the end of her life and reflects on how she got to where she is today, Georgia said, she would not change the way she lived.
"I wouldn't do anything different, except losing Robert," Georgia said. "I've had a wonderful life."