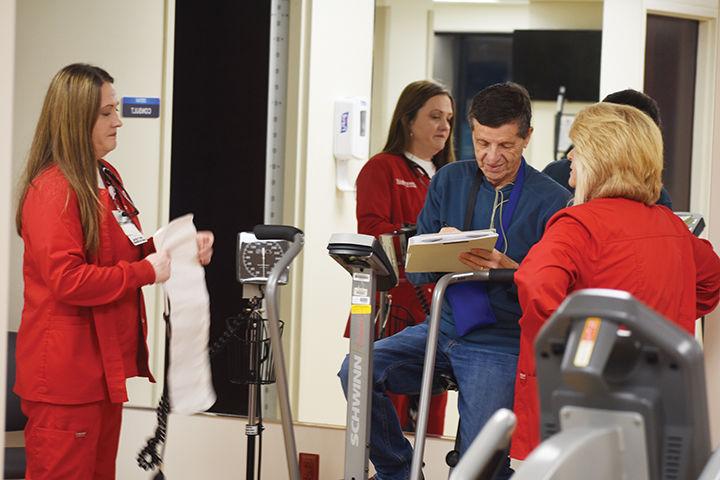 Recently Pikeville Medical Center opened its new Cardiac Rehabilitation department part of its new Heart and Vascular Institute, which appears to be nothing more than an ordinary gym and features nurses who serve more as cheerleaders and motivational personal trainers. However, that motivational and supportive environment allows patients to enjoy their workout as they work to recover from one of life's biggest scares.
PMC's certified cardiac rehab department has been open for little more than a month, according to officials, but since moving into its new space, staff have more room to work with and educate patients. Cardiac rehab consists of a three-stage, patient-individualized, program that Debbie Pennington, coordinator for the Cardiac Rehab center said, adapts to best suit the patient.
"Each person is individualized and we adapt to what we watch as we see what their heart is doing," Pennington said. "We adapt their program because we want to meet that target heart rate."
The goal for rehab patients is to get their heart rate to a personalized target range, which according to PMC RN Angel Jude is based on the patient's respective age.
"We monitor their heart rhythm but we also monitor their rate," Jude said. "Because your heart is a muscle, so it's like every other muscle in  the body. The more you work it, or the higher you get that heart rate , the stronger it becomes."
According to Jude, patients are required to be monitored once a month, but any time a patient comes in a says "I'm not feeling good" or "I'm having chest pain today," they can monitor them accordingly.
Each patient has a individual chart when being monitored which keeps track of their heart rate and rhythm. With that, Jude said, if she or another nurse sees something concerning then they are able to contact the cardiologist
and in the chance of something being an issue, Jude said staff can react quickly, as the emergency room and a cardiologist are located right next door.
According to Jude, the third stage of the rehab is "completely voluntary" for the patients and they are not required to participate. However, most patients do as they feel it's easier to complete their workouts at the environment PMC has created.
Timothy Slone, a resident of Millard, suffered his first heart attack at the age of 39 and is in stage three of the rehab and is adamant about continuing his progress despite stage three being "voluntary."
"I've had three acute MI's (Myocardial Infractions; more commonly known as heart attacks) since I was 39 with my last one in 2010," Slone said. "I've done well since then, but I only have about a third of a heart muscle left and that's why I'm so adamant about coming here."
Slone said he owns a treadmill at his home, but, according to him, it's easy to say "no" there. At PMC's new rehab facility he said, it's easy to stay motivated thanks to the fun-loving and motivational environment that is created by hospital staff but also other members of the program.
"It's a social event," said James Stapleton, another patient in stage three of the rehab. "This is a wonderful place and everybody from the other patients to the nurses here serve as a support group for one another.
"Nobody tells you that you have to do something or get to a certain point, they encourage you to want to do it."
Both Slone and Stapleton, despite suffering different incidents, shared the same sentiments, "it's a scary thing." However, neither are only referring the heart attack event in itself, as according to both, the thought of rehab is just as scary, much less the actual work. That reason, is why PMC staff goes above and beyond to make patients comfortable while also encouraging them to continue progress.
"It's scary, but the staff here do a great job making you feel like your able to push past your limits and eventually I realized I could do this," Slone said. " I love coming here because you're going to do it and I actually enjoy coming."
PMC having this state-of-the-art rehab program and heart institute close to home is a huge connivence according to Slone, as if not, he'd be in Huntington, West Virginia, or Lexington, the location of his first heart surgery.
"My family all wanted to be there of course, so there was motel rooms and other things, so, yeah, it make it a lot better," Slone said. "If you have to have surgery, this is the place to have it because the Lord has really blessed me here.
"The Lord has blessed us in this area," he added.
Those thoughts are shared by Stapleton as well, who said if not for the close proximity of PMC, he would be traveling to Lexington multiple times a week, something he said is vert taxing on his family.
"Being from Elkhorn City and having such a little ambulance service presence there, it's really reassuring to know that if I did suffer another heart attack, I only have to be transported here and not somewhere two hours away," Stapleton said. "I used to have cowboys as heroes but now it is doctors and nurses."
Once Stapleton and Slone, as with other patients, reach their heart range they will "graduate" from stage three of the rehab Pennington said the staff throw a bit of a celebration.
"We treat it like a party because we want to celebrate these patients working to make a stronger, healthier life," Pennington said.
Currently PMC has 75 individuals enrolled in stages two and three of its cardiac rehab. The facility is open five days a week.