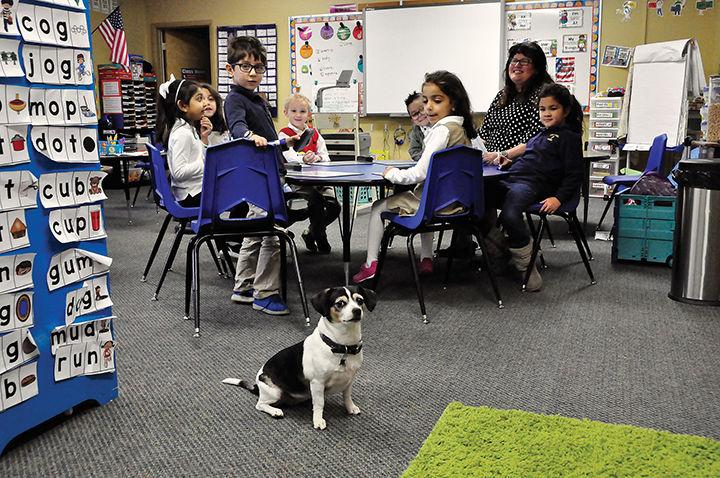 Pikeville's Catholic school has a new unofficial mascot.
Meet Lucy, a half-beagle, half-Chihuahua rescue dog from Pikeville who took over both the halls and the hearts of her hometown's St. Francis of Assisi private elementary school in August this year.
Lucy's owner, Karen Corio, started at St. Francis as a kindergarten and first grade teacher this year, and she adopted Lucy from her daughter before starting at the school. Corio said that she was unsure about bringing Lucy into the school, but she disliked leaving her at home.
Once school officials were certain no students were allergic to dogs or animals, Lucy first moved into Corio's classroom to see how she would interact with her students. The experiment became a quick success, and Lucy's territory expanded to the entire school.
"She has been a wonderful addition to the school," said school principal Anne Westgate. "It's a little bit of an experiment for us this year. When Ms. Corio moved into the classroom over the summer, I got to know Lucy a lot. She was great, and we had talked about, 'let's think about a school mascot,' because (Lucy is) very good with children and people, doesn't startle easily."
Within only a few short months, Corio's four-legged companion became a staple at the school, Westgate said, providing emotional support for the children with her gentle personality. She said Lucy has inadvertently become like a therapy dog for the children, especially those struggling with separation or test anxiety.
"Just spending a little time with Lucy calms them down," Westgate said. "We've got some that can become very anxious about their work, they're very much perfectionists, but just having Lucy sit with them so they can pet the dog while they work, you can just see their body relax."
Lucy is best known for the daily routine she performs every morning near 7:45 a.m. inside the school, a routine that she created herself.
After scurrying inside the school, Lucy scampers directly down the main hallway to the preschool classroom, "checking in" on the one or two students already inside the room. Like clockwork, she makes her way to the other two classrooms in order to greet the students. Lucy also waits by the front entrance for other children and their parents. Westgate said that the students' parents warmed up to Lucy quickly after she started visiting the school in August.
Although Lucy's dark eyes can sometimes appear sad, Corio said that her dog loves to spend time with children, which allowed her to fit well with the younger students at the school. Corio said Lucy has become more energetic since visiting the school.
"The kids just love her," Corio said. "A lot of these kids don't have dogs at home so Lucy has become like their own dog. They all want a half-beagle, half-Chihuahua dog like Lucy. I think it's been a really great thing for them."
Lucy has already left a mark on the school much larger than her four tiny paws. Teachers at St. Francis have incorporated her into several school projects and lessons for their students. One example is a large bulletin board near the preschool classroom titled "Things We Learned From Lucy." The board features a picture of Lucy in the center surrounded by colored pictures of Lucy that the kindergarten class drew, along with written things they liked about her.
Every student has his or her own favorite thing about Lucy. One of the students, Charlotte, said that she likes Lucy because she can see yellow spots in her eyes when she catches the light. She said that she also likes Lucy because of her miniature size.
"She looks just like a puppy," Charlotte said, smiling. "Lucy is a weird dog because she's part of two dogs put together."
Another student, William, said that he likes Lucy because she spends time with them while they read.
"She gets on the pillow and just snuggles you," William said.
Westgate said that Lucy has also become a kind of guard dog for the school. She "greets" every student, teacher and parent that enters the building, and she barks at anyone whose scent she does not recognize.
"She lets us know that there is someone at the door that she does not recognize and that she is not happy about it," Westgate said. "She has to get to know them first. If there is a new babysitter picking up a kid, she will bark and let us know. I think that's great, and the parents are reacting well to it as well. They're like, 'Oh, we like that there is a little bit of a watch dog sense about this.'"
Westgate said that Lucy has taught the young students invaluable lessons, like taking care of a pet. Although Lucy's presence is still an experiment this year, the school is hopeful that continuing to bring Lucy into the school will help the students.
"This is a work in progress with her, but it's really worked out well," Westgate said. "It's made them (the students) more conscious about taking care of a pet, which I think is a great thing. They're all taking care of her, and she takes care of them. As we hopefully continue to grow, we'll be looking at how we can still continue to incorporate this in at least some capacity, because it has clearly had some benefits."