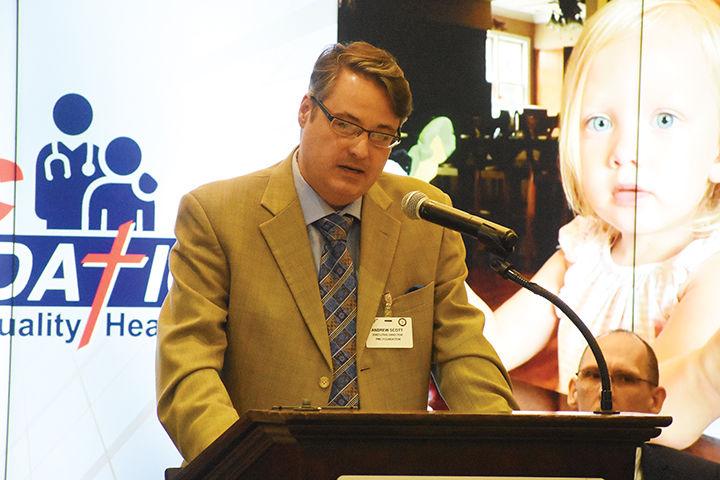 On Giving Tuesday, Pikeville Medical Center hosted a press conference to announce the relaunch of its Pikeville Medical Center Foundation for Quality Healthcare, a non-profit foundation that serves to support PMC's mission of providing world-class, quality healthcare in a Christian environment. The foundation's first initiative, according to officials, is helping PMC support Eastern Kentucky's first Children's Hospital.
Recently, PMC selected  PMC employee Andrew Scott to lead the foundation as he was named Executive Director of the Pikeville Medical Center Foundation, something he said he is honored to be a part of.
"A new initiative has been launched," Scott said. "In addition with partnering with our public agencies, PMC is now working to facilitate and encourage additional partnerships in our communities. Partnerships with private entities, hospital staff, community leaders and our number one resource, our patients.
"Which is why today, on Giving Tuesday a national day of charity throughout the United States, we are formally announcing the launch of the PMC Foundation for Quality Healthcare," he added.
Through annual campaigns, capital campaigns, planned-giving and private grants, the non-profit foundation seeks to broaden its financial resources available for PMC in order sustain, sustain, support and grow the hospital's healthcare initiatives, programs, projects and services.
According to Scott, the foundation's first initiative in now beginning and its primary goal for the rest of the year and 2020 is to work in helping PMC establish its children's hospital.
Pikeville Medical Center CEO Donovan Blackburn said the community has always been very giving and the hospital wanted to give people a "mechanism" to do that and added that far too often the area's children have to leave the region for "pretty much everything" that is of an emergency type circumstance.
"Making an investment will allow us to walk faster and sooner, Blackburn said.
Scott said he appreciates PMC CEO Donovan Blackburn as well as the members of the hospital's board of directors for selecting him to lead this foundation and assured them that he will "leave no stone unturned" in his efforts regarding assisting the hospital.
"We will do whatever we can for patients in our area," Scott said. "And everything that you do will bring us one step closer to a healthier region for us, our children and our families.
"Because together we rise, together we give," he added.
For more information regarding ways to contribute to the PMC Foundation for Quality Healthcare, contact Scott by phone at, (606) 794-3312, or email at, Andrew.Scott@pikevillehospital.org.