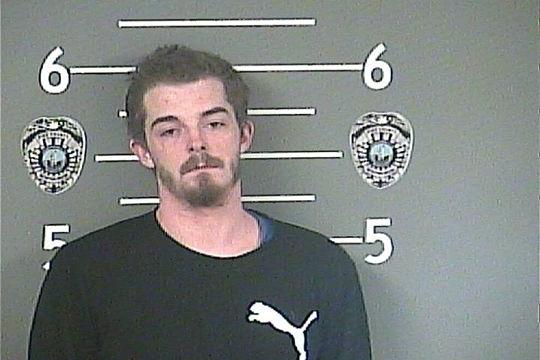 A Pike man was arrested twice on Jan. 31, after, police said, he got into a verbal argument on Main Street in Pikeville an hour after being released from the Pike County Detention Center.
According to court documents, Mason Blake Coleman, 21, of Charlie Chapman Road, Racoon, was initially arrested after Pike County Sheriff's Deputy Kevin Belcher contacted him in the parking lot of a restaurant in Pikeville at approximately 8 a.m. on Jan. 31.
Belcher wrote that he stopped at the restaurant and was informed that Coleman had been passed out behind the wheel of his vehicle in the restaurant parking lot for more than an hour. Belcher wrote that he opened the vehicle's door after observing Coleman inside, due to concerns that Coleman may need medical attention.
It took several seconds for Belcher to get Coleman awake, the citation said, but the deputy also noted a strong smell of marijuana from the vehicle.
Coleman, the citation said, told the deputy he had smoked marijuana earlier that morning. Coleman was unable to successfully complete field sobriety tests, Belcher wrote, and the deputy noted, in plain view in the vehicle a mason jar containing eight individual plastic bags, each of which contained approximately one gram of marijuana. A ninth baggie, Belcher wrote, was lying in plain view in the passenger side floorboard.
Coleman was transported to Pikeville Medical Center, the citation said, where he refused to submit to a blood test. The citation said Coleman told the deputy the marijuana was his, but he said he didn't sell it but had bought it packaged that way.
Coleman was lodged in the jail at 9:45 a.m. on Jan. 31 on charges of DUI, trafficking in marijuana and possession of drug paraphernalia. Court documents show he was released from the jail at 3:53 p.m. on his own recognizance.
However, court documents show that Coleman was booked back into the jail just an hour later, at 4:57 p.m. after an incident on Main Street.
According to the citation by Pikeville Police Officer N. Taylor, he observed two males arguing on Main Street. Coleman, the citation said was cursing and the officer advised him to stop doing so, but Coleman continued.
Further, the citation said, Coleman threatened to kill the male subject with whom he was arguing.
Coleman was lodged in the jail on charges of second-degree disorderly conduct and third-degree terroristic threatening. Court  records show he was released Sunday evening.