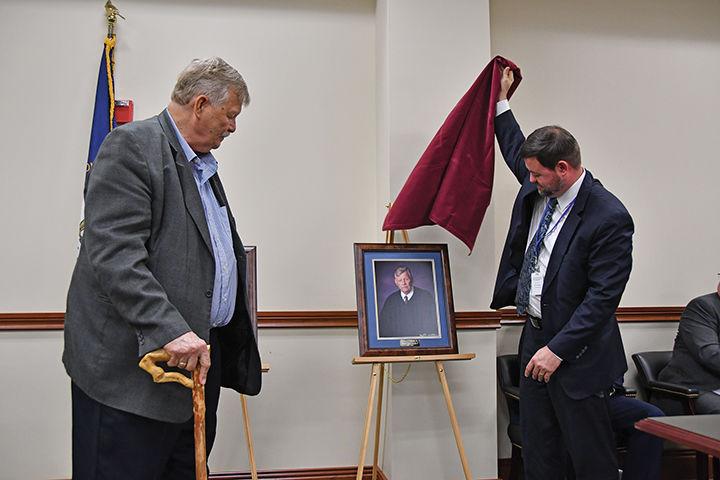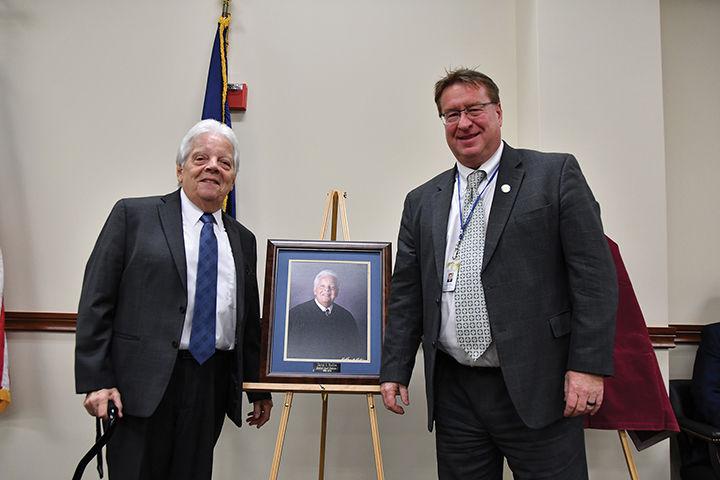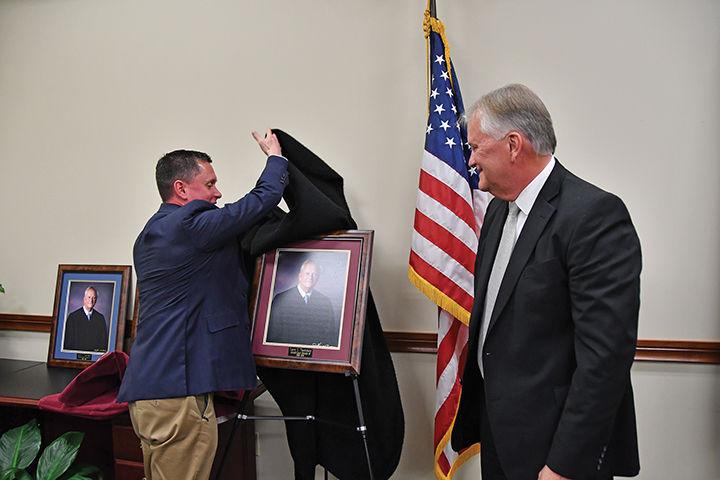 The faces of a trio of former Pike County judges will now permanently watch over their respective former courtrooms.
At a ceremony Thursday at the Pike County Judicial Center, portraits of former Pike district judges Darrel Mullins and Kelsey Friend Jr., and former Pike Family Court Judge Larry Thompson were unveiled. The portraits will hang in the former judge's respective courtrooms.
Mullins and Friend retired at the end of 2018, bringing an end to two decades of service on the bench in Pike District Court for both men. Mullins served as district judge 23 years after being elected in 1996. Friend served for 19 years after being elected in 2000. Thompson was elected to the Kentucky Court of Appeals last year after having served as Pike Family Court judge since being elected in 1999.
The portraits for the three former judges were unveiled by their respective successors. Pike District Judge Robert Wright unveiled Mullins' portrait. Wright spoke of Mullins as a mentor and a friend. He said Mullins,  whom he called the longest-serving district judge in Pike County's history, had great respect for everyone he saw in his courtroom and treated everyone fairly.
"It is an honor to sit in his seat, it is an honor for me to try to fill his shoes and follow his legacy," Wright said.
Mullins said his former courtroom is in good hands with Wright, and he hopes that he can, one day, unveil Wright's portrait.
"I really appreciate the opportunity to be here and to serve this county," Mullins said. "I have a great successor, and he may be able to beat my record. I figured out, if he beats 22 years, I'll be 95."
Pike District Judge Tommy May unveiled Friend's portrait, and spoke of Friend's compassion for people dealing with, among other issues, drug addiction. May said Friend "saved so many great lives" and he gets to see some of those people in his current duties as district judge.
"Quite frankly, you're a tough love," May said toward Friend. "Anybody who has somebody that's on drugs in their family knows that you can't talk to them and get them off drugs, you can't spank them and get them off drugs. Sometimes you can't even put them in jail and get them off drugs, you've got to practice tough love."
Friend told the crowd gathered at the ceremony that many people in the judicial community supported him during his career, but none more than his secretary, Janet Thacker.
"The people working with me allowed me to do the work that I did," Friend said. "But I'm ably served and succeeded by my worthy successor that said so many good things about me and I thank him for those. But I can't leave this podium without saying what an honor it was, Judge Mullins, to serve with you."
Pike Family Court Judge Kent Varney, who recently won election to the family court judge seat after having been appointed last spring to fill out Thompson's unexpired term, unveiled Thompson's portrait. Varney said Thompson was always been fair and consistent in his service as family court judge.
"It's a 24-hour-a-day job, you have to be mentally prepared anytime that phone rings to make a choice that affects people's lives," Varney said. "Judge Thompson was always able to do that. He always put things in a very rational, logical way and you knew what you were going to get when you go into court."
Thompson expressed his thanks to those in attendance at the ceremony and also thanked Mullins and Friend for their service and friendship. He said those in Pike County's judicial committee are responsible for helping shape him into the judge he is today.
"I wouldn't be in any of the seats I've had in Pike County if I hadn't been, first of all, blessed by the good Lord; secondly, I was blessed to have people like you that supported me, worked with me," Thompson said.
Todd Kennedy, president of the Pike County Bar Association, told the crowd the portraits were expected to be placed in their respective courtrooms Friday. The portraits were composed by Porter Studio Photography in Prestonsburg.