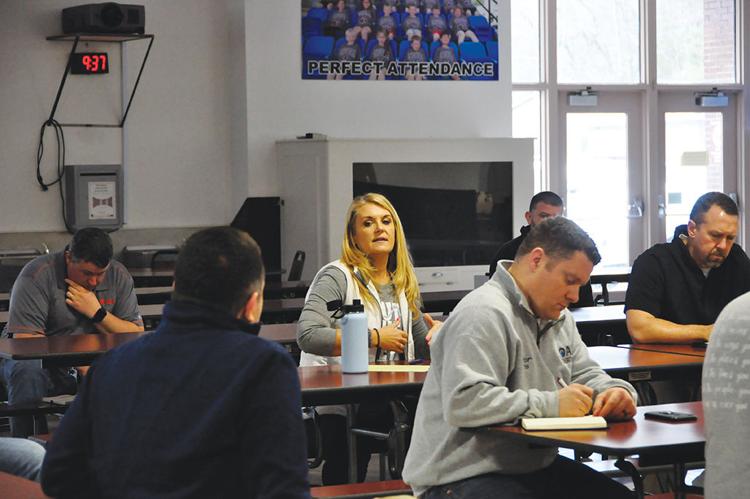 While the Pikeville Independent Schools District is closed due to COVID-19 measures, school officials are working to provide free meals to as many students as they can, and they are collaborating with local faith leaders to collect food items for students who may fall in the gap.
Pikeville Independent Schools closed on March 16 following statewide recommendations provided by Gov. Andy Beshear in order to prevent the spread of COVID-19. The district's students are currently scheduled to return on April 6, after the district's spring break.
At Pikeville Elementary School, the district's Panther Cafe provided free breakfast and lunch meals from March 16-20, and the meals were handed out to Pikeville Independent students and children who are 18 years-old or younger.
Meals will be also provided at Pikeville High School from March 23-27 for all children who are 18 years-old or younger. Breakfast meals can be picked up from 8 a.m. to 9 a.m., and lunch meals can be picked up from 11 a.m. to noon.
Food Services Director Kristy Orem spoke with the Pikeville Independent Schools Board of Education during a meeting Tuesday about providing meals to the students and how there are restrictions from the state on how the free reimbursable meals can be distributed to them.
"I know everybody in the community wants to be like, 'Oh, let's feed everybody right now,'" Orem said. "My name's on everything, and these are free reimbursable meals right now."
Although many from the community have requested to help the district feed its students, Orem said, people from the community cannot help with the preparation or distribution of the meals that are given out to students. This is due to state regulations that require only food service employees to be allowed to prepare and serve the meals when the school is providing them.
Orem said the district applied to become a summer feeding program on March 12-13 in order to receive funding from the state to purchase the reimbursable meals and distribute them to the district's students while school is not in session.
"We don't actually qualify for that, but because of the circumstances, they're letting us have this summer feeding program where we can go out and have meals here for children to come and pick them up," Orem said.
Orem said that members of the community also cannot help deliver the meals to the students because, by law, only the district's food serve employees can deliver the meals. If the district gathers food items to deliver to students, by law, community members cannot help deliver those items either.
"People say, 'I will help deliver meals,'" Orem said. "You can't. It has to be somebody in our food service that can deliver the meals because we have to mark off the meals because those are reimbursable meals that the state is giving us money for. Somebody in our program has to be doing all of that."
While speaking to the board, Orem clarified that the meals that the district provides and hands out are for all students, not just for students who receive free and reduced lunches.
Orem and several district employees began visiting housing authorities within the district on March 16, knocking on doors and delivering meals to every family where there is at least one child present.
"That's what we're doing, and that's what we'll continue to do," Orem said. "And when I come to your door, I have to see the children. You can't just say that you have five kids. I have to physically see the children there."
On March 16, the first day of providing hand-out meals to their students, only six children came to PES for breakfast and about 11 or 12 children came to get lunch. On Tuesday, Orem said, about 100 meals were provided overall, including 26 children receiving lunch at PES and food service employees handing out about 70 meals at various places within the district.
"We're moving in the right direction," Orem said.
Orem said she feels worried about her workers, who are 65 years old or older, potentially being exposed to COVID-19. People who may be at higher risk of getting very sick from COVID-19 include older adults or people who have serious underlying medical conditions, like heart disease, diabetes and lung disease, according to the Centers for Disease Control and Prevention.
"We're hoping that we can get to the point where these people can come get their meals and we don't have to go knock on doors, and they can come outside and get them by our buses," Orem said.
The following day, the district held a meeting at PES the next day as a way to collaborate ideas about how to feed students by receiving assistance from local church leaders.
PES Principal Robert Jones discussed the purpose of the meeting to the board and how he hoped it would help the district collaborate with members of the community to help feed the students while following the state's food program regulations.
"We just had so many people over the weekend, just reaching out and saying, 'What can we do to help? We want to help. We've got this much food that we'd like to bring to you for your bag program,'" Jones said to the board. "We got to thinking, there's only so much you can do with your food service program because of regulations. My thought was, well, a lot of people want to help so maybe we could sit down together and try to figure out a way we can all take advantage of each other's strengths and try to do what's best in the community."
At Wednesday's meeting at PES, Jones opened the meeting to any and all ideas from those in attendance about potential programs they have implemented at their churches or other ways that the churches and the community could help distribute food items or help feed the students in the district. Those in attendance included local church leaders, district officials and employees and other community members.
Orem spoke during the public meeting, saying that those who have been delivering meals to the students have struggled with getting the people to come out of their homes to get the meals. They have needed to knock on doors to hand the meals to the children, which could potentially expose her staff to the virus, she said.
"Am I wiling to do it? 100 percent," Orem said. "If that's what we've got to do is knock on doors, then that's what we'll do."
One of the main concerns for district officials was getting students their necessary food during the weekends, when the school buildings are closed. Food service employees distribute weekend food bags with non-perishable items, and church leaders offered to purchase food items and collect them for those weekend food bags.
The church leaders agreed to stay in contact with district officials and inform them on their plans for what to collect at their respective churches, where to drop off the items and when the items need to be dropped off.
More details on the collection and collaboration between local church leaders and the district will be made available at a later date.