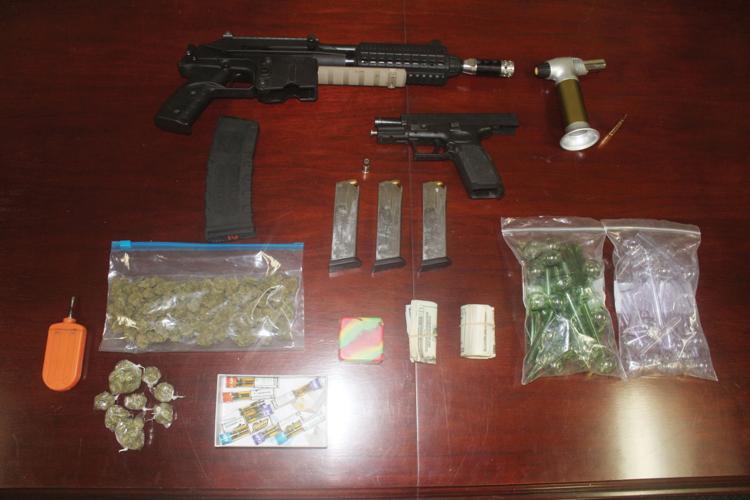 A Pikeville man was arrested after what police said the man told them was a "drug deal gone bad."
According to an arrest citation by PCSD Deputy Kevin Belcher, on Thursday evening, an off-duty deputy was driving on U.S. 119, when he observed a vehicle driven by Michael Winn Kiser, 41, of Bent Branch Road, driving on the highway, repeatedly slamming on his brakes as if he was trying to get a vehicle behind him to hit his vehicle.
Both vehicles, the citation said, exited U.S. 119 onto Zebulon Highway, where Kiser again braked hard. Both vehicles stopped on the side of Zebulon Highway and the drivers exited the vehicles, the citation said.
Belcher wrote that the deputy observed Kiser and the other subject arguing. Kiser, the citation said, kicked the other subject's car and the man pushed Kiser.
Kiser, the citation said, then pulled a handgun and pointed it in the man's face. The two men then moved into the parking lot of the Double Kwik convenience store nearby, at which time the off-duty deputy approached Kiser's vehicle and ordered him out.
The citation said the handgun, a .45 caliber Springfield, was recovered from Kiser's vehicle, which also smelled strongly of marijuana. A search of Kiser's vehicle, the citation said, revealed a box containing eight bags of marijuana, seven tubes of what appeared to be THC oil and a box containing THC wax.
Also found during the search, the citation said, were a bag containing approximately four ounces of marijuana, two bags of glass pipes and a Kel Tec 5.56 mm firearm. The citation said officers also found two separate bundles of cash tied with rubber bands in Kiser's pants pocket.
Belcher wrote that Kiser told officers that he used to buy marijuana from the other man and this was a drug deal gone bad.
The second man gave consent to search his person and vehicle, Belcher wrote, but officers found no marijuana or other items and he was released.
Kiser was lodged in the Pike County Detention Center on charges of failure to pay fines, first-degree wanton endangerment, menacing, second-degree disorderly conduct, reckless driving, trafficking in marijuana and possession of drug paraphernalia.
Court documents show Kiser pleaded not guilty Friday before Pike District Judge Robert Wright, who ordered him held on a $5,000 cash or property bond. Kiser remained lodged in the jail as of presstime Friday.