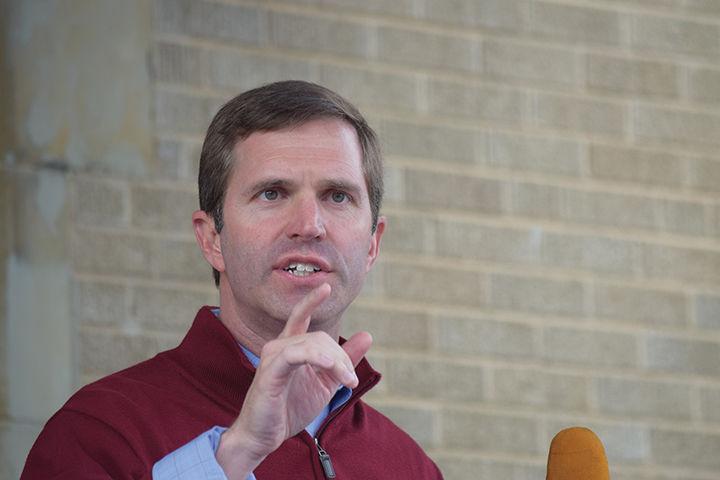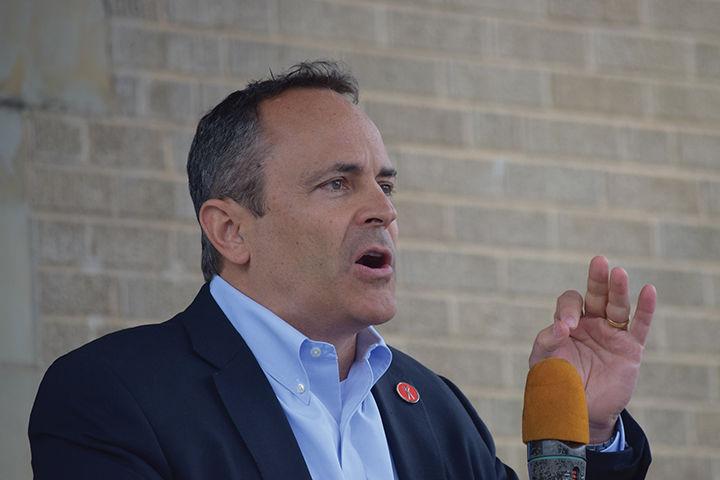 The long and contentious race for who will serve as Kentucky's governor for the next four years will be decided on Tuesday, and the candidates are making their case for not only why they should be elected, but also for why voters should vote against their opponent.
Incumbent Republican Gov. Matt Bevin will square off on Tuesday against Democratic challenger Attorney General Andy Beshear on the general election ballot, bringing to an end a campaign which has seen the two men, already bitter rivals, taking the other to task over numerous issues, including jobs creation, reproductive rights and, most notably, pension reform for state employees.
Bevin has not shied away from the pension situation and has, on numerous occasions, escalated the situation into a controversy with critical remarks about educators and the Kentucky Education Administration and also with pension bills aimed at addressing the state's pension shortfall. Bevin, in an exclusive interview with the News-Express, painted himself as a governor who supports public education and educators, despite the numerous criticisms.
"I'm the only governor in the history of Kentucky to ever fully fund the teachers' pension plan, or the others, for that matter," he said. "And it's a sad commentary that, in all the years of governors, we never, ever, before me, had one that fully funded even the actuarially required contribution, which is the bare minimum required to keep the funds from falling into further unfunded status."
Bevin also said he is the first governor to contribute 100 percent of the state's lottery sales revenues to education.
Bevin also jabbed at Beshear, stating that he has created jobs in Kentucky but that Beshear has never created jobs. He also criticized Beshear for his stance on the ongoing opioid epidemic, staying that Beshear's private law practice prior to his being elected attorney general worked in opposition to Kentucky in past opioid-related cases. Beshear, however, said Bevin's remarks are untrue, that he was not a part of the law firm in question when it worked in a case involving Kentucky and Purdue Pharma. He also accused Bevin of being closely tied to opioid manufacturers and said he has been aggressive in pursuing settlements from drug manufacturers for their roles in the opioid epidemic.
"This governor has stood in my way virtually every step," Beshear said.
Beshear also shot back at statements Bevin has made about job creation, saying that Bevin touting his job creation numbers is based upon false numbers, which still include figures related back to the failed EnerBlu project.
"This governor sold false hope to Pike County," Beshear said. "In all the numbers he puts out there about jobs and investments, do you know what he still includes? EnerBlu, a company that he claimed was going to be a reality, that I had concerns of from the start. He said there was going to be hundreds of jobs and a hundred-million dollars of investment, never got off the ground. Instead, he sold false hope to Pike County and to Eastern Kentucky."
Despite having been increasingly visible in the region over the past several months, Bevin said he has been a frequent visitor of Eastern Kentucky during the entire time he has been governor.
Bevin also said major investments have been occurring in Eastern Kentucky during his tenure as governor.
"We have (money) pouring into Eastern Kentucky into infrastructure, into roads, into water, into sewer, into economic development, the likes of which has not been seen ... at least for many decades, and we're doing this intentionally," Bevin said. "And for those who literally have only begun to notice it for the past couple of moths, I wonder where they've been and why they've been asleep as to what's been going on for the past three-and-a-half years," he said.
Beshear said agriculture and technology will be focuses of his if he is elected governor.
"I'm going to be a governor that has a vision ... where we can be leaders not just in the country, but in the world in industries that are going to define the next 30 years," Beshear said. "There are areas like agriculture technology, because we've got to increase our food output 70 percent in the next 30 years just to feed the world's population. It's about advanced manufacturing, especially automation and robotics."
Beshear also said infrastructure is also a major concern and he plans to frequent Eastern Kentucky if elected governor.
"You're going to see me regularly because I'm going to fight for jobs right there," Beshear said of Eastern Kentucky. "And fighting for jobs in Eastern Kentucky is also about creating infrastructure."
Bevin said, if elected, he will continue to serve as he has, and "will not kick cans down the road," and "will make tough decisions."
The general election will be held Nov. 5.
Other offices on the ballot in Pike County Tuesday include: Secretary of State, with Republican candidate Daniel Cameron facing Democratic candidate Greg Stumbo; State Auditor, with Republican incumbent Mike Harmon facing challengers Sheri Donahu, a Democrat, and Libertarian Kyle Hugengerg; State Treasurer, with Republican incumbent Allison Ball facing Democratic challenger Michael Bowman; and Agriculture Commissioner, with Republican incumbent Ryan Quarles facing challengers Robert Haley Conway, a Democrat, and Libertarian Josh Gilpin.
Voters will also be able to choose in the race for Pike County Family Court Judge. Sitting Judge Kent Varney is challenged by Justin Cory Hamilton in that race. In Elkhorn City, voters will have the opportunity to vote whether they are in favor of alcohol sales being made legal in the city.
To listen to the interviews with Bevin and Beshear in their entirety, tune into Appalachian Newspapers' "Above the Fold" podcast, available on iTunes, Podbean and Spotify.