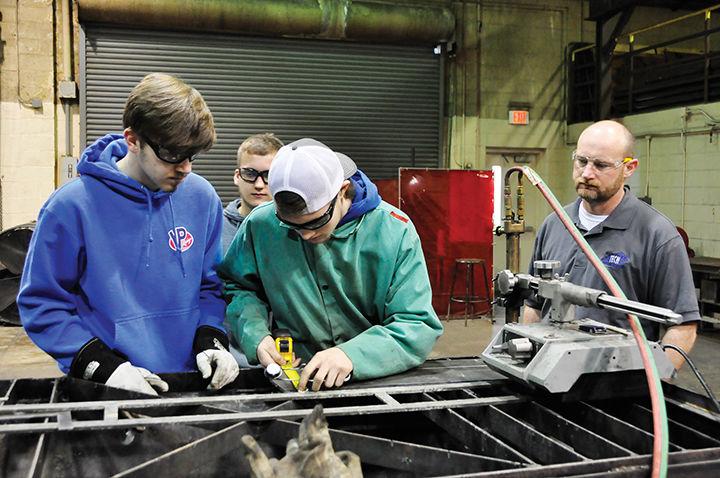 As Pike County still feels the effects of a declining coal industry, the Pike County Schools District has placed a stronger emphasis on college and career readiness to prepare its dwindling student population for a future beyond coal.
The decline of the coal industry, starting around 2012, has strongly impacted the Pike County Schools District. Since 2012, the district has seen a sharp decline in enrollment every year — from 9,700 students in 2012 to nearly 7,900 by the 2019-20 school year, a loss of about 200 students each year.
The decline in enrollment, district officials said, can be solely attributed to the closure of coal mines, with hundreds of coal miners being laid off and the futures of their families becoming uncertain.
Superintendent Reed Adkins, who was the principal of Johns Creek Elementary in 2012, said many fathers who worked in the coal mines made between $60,000 and $100,000 a year before being laid off, and they eventually moved to other regions in the state in order to find work. He said a lack of substantial job opportunities in the county could have also attributed to families moving away from the area.
"When those mines shut down, they went through the period of having unemployment waiting on the mining business to come back, and it didn't," Adkins said. "After that, one good family after another moved to Georgetown and Louisville. We're seeing a lot of our kids' families have to move to central Kentucky for work."
Pike County's population has declined from about 65,000 in 2010 to about 58,400 in 2018, according to the U.S. Census Bureau. For the schools district, the declining enrollment has led to a decrease in state funding for each student enrolled. Since 2012, the district has lost about $7.2 million every year in Support Education Excellence in Kentucky (SEEK) funding from the state due to a loss of students. The district's revenue from coal and mineral severance tax funds has decreased from about $2 million in 2013-14 to about $200,000, which is anticipated for this year.
"People realize that a large number of our students' parents were affected by the mining industry, but our school district was affected as well, because not only did the people that owned homes pay taxes, but the people who owned the mines paid taxes," Adkins said. "They paid taxes not only on the mine itself but also paid taxes on the equipment that was there. It has really affected our tax base tremendously."
Adkins became superintendent in 2015, and he said the district has had to make tough decisions to ensure their students' success while also meeting their bottom line. The district sold six school buildings around 2012 due to a loss in population and has consolidated several schools, including Millard Elementary School and Millard High School, and bus routes. Instead of laying off their employees, Adkins said, the district decided not to replace positions as staff members have retired in order to save money.
While the schools located around Pikeville have relatively held a steady enrollment, Adkins said, schools located father away from the city, including East Ridge High School and Belfry High School, have seen sharper declines. Enrollment at East Ridge High School, which consolidates students from Millard, Elkhorn City and Feds Creek, has declined from 733 students in 2010 to 465 students this year, according to school officials.
As the district and the county faces ongoing financial and population uncertainties, Adkins said that one of the largest concerns he has heard from parents is the possibility of students graduating from the district and not returning, due to them attending college, pursuing technical degrees and being offered high-paying positions outside of the county.
While it is difficult to keep every graduating student in Pike County, Adkins said, the district has shifted its focus over the years to helping students in the district become more successful through focusing more on college and career readiness efforts. Adkins said the district has worked to provide more opportunities for students to succeed in the futures, rather than assuming that they would be able to go out and find a job in coal mining after graduation.
"It's forced us as a school system to really look at college and career both, and we really have ramped up our ATC, our technical schools," Adkins said. "We're making sure our kids are being offered different opportunities now. We've not rested on the fact that they can go out of high school and get a job in the coal mines. We've made sure that, if they're not college-bound, that they're career-bound."
One of the ways the district has worked to help students prepare for a future beyond coal is by offering technical school, also known as vocational school, programs at each of the five high schools. At East Ridge High School, for example, students who decide to pursue an interest in technical work are offered morning or afternoon elective classes at the Millard Technical School, which is located by the old Millard High School.
The Millard Technical School provides courses in industrial maintenance, electricity and automation for students at East Ridge, Shelby Valley High School and Pikeville High School. There are technical programs offered at each of the five high schools — East Ridge, Belfry, Shelby Valley, Pike Central High School and Phelps High School — including electricity, industrial maintenance, heating and cooling, automation, computer graphics and medical nursing aide.
East Ridge High School principal Kevin Justice, who became principal in 2007, said he has seen the district focus more on college and career readiness. He said the technical programs offered by the district promote that focus, and he hopes the district expands those programs to offer more in the future.
"It's going to give our students a good opportunity to leave high school ready to go straight into the workforce and the medical field and have some really good jobs," Justice said. "We're trying to get every kid college or career ready before they graduate. I would like to see us expand our vocational side. I think we need to offer more than we are, and a lot of that is going to be contingent on funding."
The district has expanded its dual credit program and offered more Advanced Placement courses in order to give students opportunities to gain more college credits before graduation.
"It's going to help them financially because they're going to get in at a very reduced rate than what they would pay once they left high school, and it's going to give them a head start," Justice said. "Now that they have some college hours, hopefully, they can expand on it and get a degree and get a job."
The district also offers the Early College Academy, a competitive program offered to all district high school students. In the program, accepted students attend classes at Big Sandy Community and Technical College's Pikeville campus during their junior and senior years of high school in order to earn an Associate's degree in arts, science or both. According to the program's website, students graduate from BSCTC with at least 60 college hours.
Although Pike County is still being affected by a declining coal industry, Adkins said that he feels hopeful in the district as it moves toward preparing students for a future beyond coal.
"We're getting them in some kind of skill that will give them an opportunity to make a living, whether it be college or career," Adkins said. "I think that has forced us to be better as a school system. We're making sure everybody has an opportunity to get a high school diploma and have either a college or career path when they leave here. There's lots of hope. It just looks different than it used to."