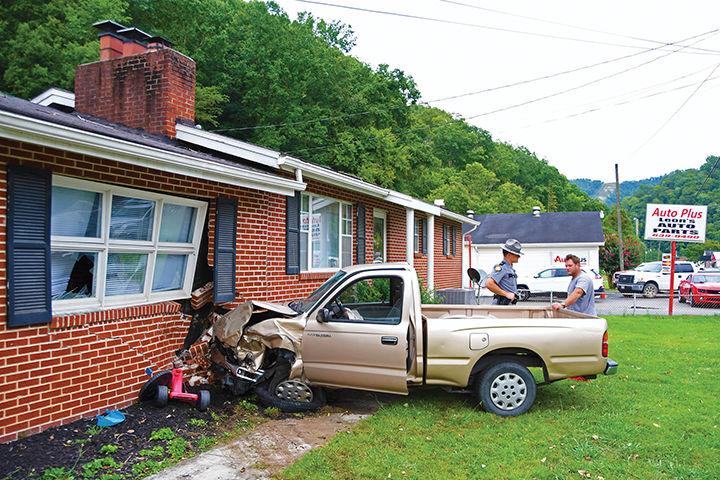 An alleged DUI wreck resulted in a vehicle crashing into a roadside residence and, according to the resident, nearly injuring an infant inside the house.
The crash occurred Tuesday evening on Ky. 122 at Robinson Creek. Kentucky State Police Trooper Colt Stumbo told the News-Express that Eric Tackett, 40, of Apple Jack Branch, Oil Springs, was traveling along the roadway when he struck a vehicle which had stopped in the opposite lane of travel while attempting to turn off the road into a parking lot. After colliding with the stopped vehicle, Stumbo said, Tackett's vehicle left the roadway and crashed through a fence and into a roadside residence. The house sustained severe damage, with one of the front-facing brick walls nearly collapsed by the impact.
According to court documents, Tackett was unable to successfully complete field sobriety tests and was arrested on a DUI charge and lodged in the Pike County Detention Center.
No one was injured in the vehicle crash, nor was anyone injured when Tackett's vehicle crashed into the house, although a family of four was home at the time of the incident.
Amy White, a resident in the house, said she heard the initial impact of Tackett's Toyota Tacoma pickup truck striking the vehicle stopped on the highway and she saw Tackett's vehicle careening toward her house. White said her one-month-old baby was lying on a couch sitting along the wall which Tackett's vehicle was approaching.
She said she grabbed the child just before the impact.
"It sounded like a tire blew out," she said. "I got up just in time and saw him."
White said the impact of Tackett's vehicle striking her house shoved the couch about three feet away from the wall. She said the impact would have thrown her baby off the couch.
"He hit the house and the couch come and hit me in the legs," she said.
White's fiancee and her five-year-old son were also inside the house. Neither were injured.
White said she confronted Tackett following the crash.
"I grabbed my baby and just started screaming and ran outside the house and he was trying to get out of his vehicle," she said.
White said she is glad Tackett was taken into custody on a DUI charge.
"If you're out on the road and you're drunk or you're high, you don't need to be driving because stuff like this could happen and it could have been a lot worse," she said. "Somebody could have gotten killed."
Tackett pleaded not guilty to the DUI charge Wednesday in Pike District Court and was ordered held on a $5,000 surety bond. He remained lodged in the Pike County Detention Center as of presstime Wednesday.