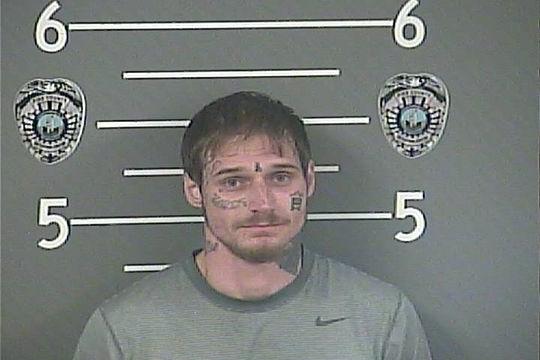 A Floyd County man was arrested last week on numerous charges after he allegedly fled from police.
According to court documents, on Tuesday, Kentucky State Police Trooper M. Branham observed a 2007 Chevrolet Colorado being operated on U.S. 460 near Harless Creek which had only one working tail lamp and no working brake lights.
Branham wrote he confirmed the vehicle was traveling 65 mph in a 45 mph zone and also that the Colorado's registration was expired. Branham, the citation said, attempted to stop the vehicle, at which time the vehicle failed to yield and accelerated.
The trooper wrote that the driver failed to stop and continued to flee onto a strip mine road and fled to the top of the mountain before he drove into an old pond where the vehicle got stuck. Branham wrote that he ran up to the vehicle and made contact through the driver's side window with the driver, but that the driver was able to jump out of the vehicle and flee on foot.
Branham was able to see the driver, who he identified as Robert Messersmith, 28, of Red Morg Branch, Teaberry, because the trooper had arrested Messersmith in 2018 in a different case.
Court documents show that Messersmith was arrested Wednesday in connection with the alleged chase and charged with first-degree fleeing or evading police (two counts), second-degree fleeing or evading police, possession of a handgun by a convicted felon, driving on a suspended license and traffic charges.